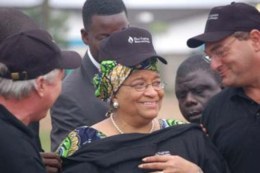 Financial Times | August 17 2010
By Kevin Brown in Singapore
War-ravaged Liberia's hopes of developing a significant palm oil industry were boosted on Tuesday as one of the world's biggest producers said it was close to investing in a huge plantation project.
In the latest of a wave of proposed Asian agricultural investments in west Africa, Singapore-listed Golden Agri Resources said it was "actively evaluating" taking a share in a 220,000-hectare project being offered by the government of President Ellen Johnson-Sirleaf.
Malaysia's Sime Darby was granted a 220,000-hectare concession last year, and Equatorial Palm Oil, a UK-listed palm oil developer, has a further 169,000 hectares, including 3,000 hectares near the port of Buchanan, where it is reactivating ageing trees.
The plantations will take decades to develop, but will have a big impact on the global industry if brought into full production.
Golden Agri, the second-biggest global producer, operates about 430,000 hectares in Indonesia. Its investment would be made through Verdant, a private equity fund and sole shareholder of Golden Veroleum (Liberia). Golden Veroleum was "in the process of being granted a concession". The Liberian government has yet to finalise the deal.
Franky Widjaja, chairman and chief executive of Golden Agri, said the group hoped to use its expertise in large-scale cultivation of oil palm plantations "to contribute positively to the government of Liberia's poverty reduction strategy".
Gabon said this week it was planning $4.5bn (€3.5bn, £2.9bn) of agricultural and infrastructure investments by Asian companies, including timber and palm oil projects to be led by Olam, the Singapore-based agricultural producer and supply chain manager. Olam said it was in talks with the Gabon government about projects, though it was still carrying out feasibility studies.
The Asian projects follow a surge of Chinese investment in Africa, including a series of multibillion-dollar minerals-for-infrastructure deals to build dams, roads, power plants, refineries and railways.
But some Africa investments have triggered opposition, especially if it involves the transfer of ownership or use of land. Daewoo Logistics of South Korea thought it had secured a deal to lease a million hectares of land in Madagascar to grow corn and oil palms, but discussions were ended after a coup there.
Golden Agri has faced problems over its plantation activities recently as one of the targets of a campaign by Greenpeace, the environmental group, against companies controlled by the Widjaja family that use the Sinar Mas brand name.
A report by independent experts commissioned by Golden Agri into the Greenpeace allegations last week concluded Golden Agri had not destroyed primary rainforest in Indonesia, but had planted a small number of palm oil trees in deep peat areas with high conservation value. Golden Agri said the report showed Greenpeace's claims were "exaggerated or wrong" and that the group operated "responsibly and within the laws and regulations set out by the Indonesian government".