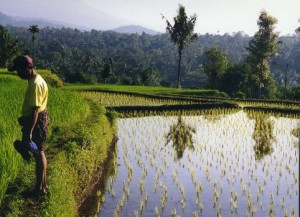 Reuters | 7 June 2010
By Muklis Ali
JAKARTA, June 7 (Reuters) - Indonesia will open up its agricultural sector to foreigners and raise the level of foreign investment allowed in sectors including healthcare and transport, according to a presidential decree seen by Reuters on Monday.
Indonesia needs billions of dollars in investment to support its target of 7 percent economic growth by 2014 and has struggled to attract foreign direct investment in recent years in the face of competition from regional rivals including Vietnam and China.
Foreigners will be allowed to have a maximum ownership of 49 percent in plantations for staples such as rice, a move which could potentially encourage foreigners to invest in one of the government's priority projects, the vast Merauke food estate in remote Papua, in easternmost Indonesia.
However, the decree shows that Indonesia will keep a ban on investment in telecommunication towers despite pressure from foreign investors to open up that sector.
State-controlled Telekomunikasi Indonesia is in talks with Singapore Telecommunications to buy out SingTel's part-ownership in about 9,000 telecom towers because of the rules, in a deal that could be worth $1.2 billion.
There has been fierce resistance from local vested interests to proposals to open up strategic sectors, and the presidential decree -- which serves as law -- likely reflects a compromise between these interests and reformers within the government.
In transportation, the government has overwritten previous conflicting legislation and will allow foreign ownership of up to 49 percent in land, sea and air transport.
In healthcare, foreign investors will now be allowed to hold up to 67 percent in hospitals across Indonesia. Previously, foreign ownership was 65 percent and restricted to a few provincial cities such as Surabaya in east Java, and Medan in north Sumatra.
The level of foreign ownership in education will remain unchanged at 49 percent, after proposals to raise it to 51 percent ownership.
Firms such as Singapore's Raffles Education and private healthcare provider Parkway Holdings are looking to expand regionally, while private equity firms are eyeing sectors from food to transport to tap consumer demand.
Investors have poured money into Indonesia's bonds, rupiah currency and stock market in the past year, encouraged by the strong economic growth and increased political stability.
But investors in fixed assets often complain about obstacles such as red tape, widespread corruption and a shaky legal system.
(Reporting by Muklis Ali; Writing by Neil Chatterjee; Editing by Sara Webb)