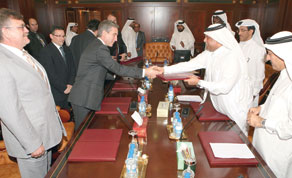 Gulf Times | 31 May 2010
By Pratap John/Chief Business Reporter
Qatar will seek investment opportunities in Moldova, particularly in the country's farm and energy sectors, HE the Deputy Premier Abdullah bin Hamad al-Attiyah has said.
He said a trade delegation from Qatar, which was expected to visit Moldova shortly, would identify 'potential areas' for investment. Al-Attiyah was speaking after receiving Moldova's Deputy Prime Minister and Foreign Minister Iurie Leanca at his office yesterday.
Asked whether any specific agreement had been reached between the two countries at their high-level meeting, al-Attiyah said, "Moldova is a young country; we are only getting introduced. But I understand Moldova has a favourable climate and good farmland, which Qatar's Hassad Food could possibly look at for opportunities."
He said though Qatar is rich in energy resources, the country is dry and faces severe scarcity of water. Hence production of food crops is very minimal.
"We export our commodities to some 85 countries in the world. We are the global leader in LNG, GTL and fertilisers. Although we produce about 5.7mn tonnes of urea annually, we consume only 2,000 tonnes a year. This is a reality, which we must acknowledge," al-Attiyah said.
He said QPI, Qatar Petroleum's international arm, would also look at investment opportunities in the Eastern European country.
"I cannot give you specific details now; but QPI's chief Nasser al-Jaidah and his team will certainly explore opportunities in that country," he said.
Leanca said he was 'quite impressed' by the developments in Qatar, though his country is also small and relatively young.
"We wish to know how you could build a solid economy within a few years. Moldova wishes to learn from Qatar's experience in various sectors," Leanca said.
The Moldavian Deputy Prime Minister urged Qatar to explore investment opportunities in his country, particularly in the farm sector.
"I am happy to note that a Qatari trade delegation would visit us soon. I am also looking forward to receiving al-Attiyah in our country. Working together, we can do spectacular things," Leanca said.
Earlier, al-Attiyah and Leanca signed an agreement, which facilitates bilateral cooperation in various fields.
Moldova is a landlocked country in Eastern Europe, located between Romania to the west and Ukraine to the north, east and south. Part of the erstwhile Soviet Union, Moldova declared itself independent in 1991.
Moldova enjoys a 'favourable climate and good farmland' but has no major mineral deposits. As a result, the economy depends heavily on agriculture, mainly fruits, vegetables, wine, and tobacco.
The country has to meet its energy needs by importing petroleum products, largely from Russia.