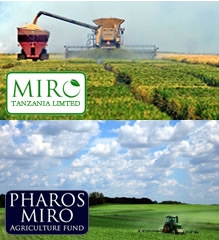 Reuters | May 28, 2010
? Gulf buyers looking for less risky farmland
? Australia, East Europe in focus
? Lower infrastructure costs for land in developed world
By Amena Bakr
DUBAI, May 28 (Reuters) - Gulf nations seeking farmland for food security have shifted their focus to East Europe and Australia after a buying spree in the developing world as they look for land that comes with less political and financial risk.
The Gulf is one of the world's biggest food importing regions. It stepped up efforts to buy and lease farmland in developing nations to secure food supplies after global commodity prices rose to record levels in 2007-2008.
Gulf investors initially targeted Sudan, Iraq, Pakistan and Thailand, among others.
"If you have a look at the countries that have so far been targeted you'll find that all of them have a degree of political risk," said Sudhakar Tomar, managing director of Dubai-based Hakan Agro DMCC, one of the largest food trading companies in the Gulf region.
"But there are other options that are commercially attractive, ethically justifiable and legally more secure."
Hassad Food, owned by Qatar's sovereign wealth fund, formed a Sydney-based subsidiary in December, Hassad Australia, to buy farmland for wheat and livestock production.
It plans to have the capacity to produce 150,000 sheep and 50 tonnes of wheat per year, the company said.
Last year Pharos Miro Agriculture Fund, a joint venture between UAE-based Pharos Financial Group and Miro Holdings International, was launched and aims to develop farmland in eastern Europe.
The $350 million fund had attracted the attention of Gulf sovereign wealth funds, said Miro Chief Executive Oliver Barnes.
"We are looking for land across that area in countries like Romania, Bulgaria and Moldova," he said.
Last month, UK-based Swire Group went to the Gulf in search of a buyer for their agricultural business in Australia, Clyde Agriculture.
"We came to the Gulf region because we noticed that there's an interest in not only agriculture investment but also in locations that are more sustainable in the long term and are already developed," said John McKillop, managing director of Clyde Agriculture.
The company owns 165,000 hectares of farmland in New South Wales, in eastern Australia, McKillop said.
While land in developed countries is more expensive, the cost of building infrastructure in developing countries can quickly make cheap land look pricey, analysts said.
"Many people think that land in Africa is cheap but it's not because you have to invest in infrastructure which is not there so costs around $1,500-2,000 per hectare," Barnes said.
In eastern Europe the company would be able to have freehold rights over the land which roughly costs around $2,000 per hectare, Barnes said.
AVOIDING CRITICISM
Foreign land acquisitions have provoked opposition from some sectors and from farmers in developing nations.
In Madagascar, an attempt by South Korea's Daewoo Logistics to lease an area of land larger than Qatar to grow food for export contributed to the unpopularity of former leader Marc Ravalomanana, who was toppled in March last year.
The United Nations continues to express concern that farmers' rights in developing nations could be compromised as rich countries buy farmland to secure food supplies.
This caused Gulf states to rethink rather than risk tarnishing their reputation with the deals, described by some who oppose them as land grabs.
"But as more investors look into the opportunities that developed nations present there will be no need to go underground or be ashamed of these deals," said Hakan Agro's Tomar.
Buying land in countries that can barely feed themselves and exporting produce from it has exposed investors to popular unrest and political disapproval in their target countries in the developing world.
Developed countries offered less political and ethical obstacles to shipping food out, Clyde Agriculture's McKillop said.
"Investors can ship back all the produce without having to share it with the local market," McKillop added.
Pakistan and Iraq are in the process of finalising laws that would govern long-term foreign land leases. Both countries have conditions where investors have to share a percentage of the produce with the local market.
"(Investors) goal is to produce food to ship in back to their countries, but our priority is to feed our own people. So, if any land leases take place, the majority of the produce will have to be for the local Iraqi market," Fawzi al-Hariri, Iraq's minister of industry and minerals, said.
Changes in legislation combined with political upheaval in target countries have made farmland in the developing world less of a magnet for Gulf cash.
"Investing in developing countries was attractive in the beginning, but we just came to a point where laws and govenments are changing overnight and it was just not a secure option," said a UAE based investor who spoke on condition of anonymity. (Editing by William Hardy)