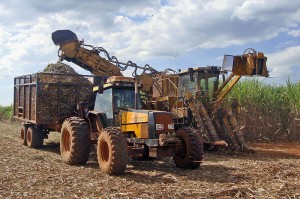 Reuters | 19 May 2010
By Carey Gillam
NEW YORK, May 19 (Reuters) - Global agribusiness and food company Bunge Ltd is gauging investor interest for the launch of an investment fund that would buy land in Brazil to take advantage of demand for sugar and sugar-based ethanol, the company's chief financial officer said on Wednesday. The offering would build on Bunge's expanding presence in the sugar industry in Brazil and is one of many new investment vehicles by a range of companies and investment groups that are funneling capital into global agriculture.
"We've been out in the market gauging investor appetite," said Bunge Chief Financial Officer Jacqualyn Fouse. "Depending on that appetite we'll figure out what the size of it might be and when it could actually get kicked off. It is a pretty active project but it is not up and running yet."
Fouse said investor interest in farmland ownership appeared to be growing, and Bunge was aiming to draw more than $100 million in investor dollars to its land fund.
She said though the fund would target farmland acquisitions involving production of multiple crops, the focus would be on sugar production.
"The opportunity is definitely there," she said.
Fouse, who spoke about the land fund on the sidelines of an industry conference in New York, said in a presentation at the BMO Capital Markets conference that Bunge believes Brazil is uniquely positioned as a key low-cost global producer for raw sugar and sugar-based ethanol.
"Domestic demand in Brazil for ethanol has been growing at a very rapid pace," said Fouse. Sugar is preferable to corn for ethanol production, she said. "We think long term ... the future for sugar-based ethanol is very good."
White Plains, New York-based Bunge buys, sells, stores and transports oilseeds and grains, produces sugar and ethanol from sugar cane; mills wheat and corn to make ingredients used by food companies; and sells fertilizer in North and South America.