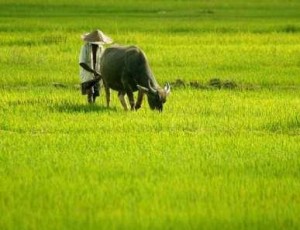 Jakarta Globe | 9 May 2010
Artie Ekawati& Fidelis E Satriastanti
Environmentalists are up in arms over the latest design for the Merau­ke Integrated Food and Energy Estate in Papua, which they say will see more than 1.1 million hectares of forests converted into agricultural estates.
Jakarta-based Greenomics Indonesia said on Sunday that the latest proposal from the National Spatial Planning Coordination Agency, under the Ministry of Public Works, allocated 1.157 million hectares of primary or natural forests — areas that have not been logged before — to the planned Merauke food estate. This is 90.2 percent of the total 1.28 million hectares to be devoted to the estate.
"President Susilo Bambang Yudhoyono has encouraged world leaders to inject new economic logic into the development concept, where he underlined that keeping forests is much more beneficial than cutting them down," said Elfian Effendi, executive director of Greenomics Indonesia.
"It would be strange if the person who said that would eventually allow the large-scale conversion of natural forests into plantation areas."
The Merauke project, which spans three districts in Papua, is part of the government's plan to develop agricultural estates in remote areas such as Papua and Kalimantan so they can become self-sufficient in food production and eventually major food exporters.
Merauke has been touted as a major destination of foreign investment and a source of jobs in impoverished Papua, and the government has predicted the population of the district could soar from about 175,000 to 800,000 as a result of the project.
It was scheduled for inauguration in February but has been delayed by land-zoning problems, specifically over which kind of land would be used.
Forestry Minister Zulkifli Hasan has said the delay was because the government was still mapping the forest area in Papua to avoid protected forests being converted into plantations for the estate. Zulkifli said the government had yet to determine zoning for the food estate and how much forested land could be used.
But according to Elfian, the Ministry of Forestry has now signed an agreement to classify 1.45 million hectares of primary forest within Merauke district alone as Convertible Production Forests (HPK), meaning they can be used for other activities, such as plantations. The conversion still has to be approved by the Ministry of Forestry.
"Of 1.45 million hectares of HPK in Merauke district, about 366,000 hectares have no forests anymore, and 1.06 million hectares are still forested areas," he said. "If they continue with their plans, they will break their own promise not to open natural forests for this project."
Greenomics estimated that the allocated forest areas have about 410.9 million cubic meters of timber worth about Rp 120.87 trillion ($13.1 billion) on the domestic market. On the black market, it could fetch as much as Rp 375.5 trillion.
Masyhud, a spokesman for the Ministry of Forestry, did not deny the classification of forest areas in Merauke into HPK, but said the ministry had not yet agreed to the conversion of these areas into agricultural or energy estates for the Merauke project.
He said more detailed surveys were needed to determine which forest areas could be released.