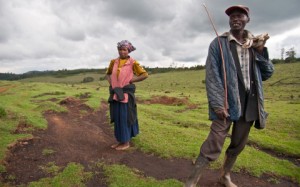 Business Daily | 4 May 2010
by George Omondi
(Nairobi) - When Citadel Capital announced its plan to open an eastern Africa office in Nairobi by January this year, there was little excitement even as the Egyptian firm went ahead to explain that its interest in the region will extend to food transport.
By the time the announcement was made late last year, Citadel Capital was already a household name in the region --just fresh from acquiring a stake in struggling Rift Valley Railways (RVR).
The local market treated Citadel's move as part of its now familiar African push that has seen it rise to become one of the continent's largest private equity firms.
So far, the private fund controls Sh639 billion ($8.3 billion) worth of investments scattered in 15 industries across 12 countries.
However, when the fund's managing director Mr Sharif Sadek hinted to the Business Daily two weeks ago that his investment strategy in the region includes land-leasing for growing raw materials to feed his food business empire, the reaction was quick and sharp.
The comment had just earned Citadel a place in the list of investors that conservationists and the civil society groups in the region have put under strict surveillance.
"Investors like Citadel Capital and Goldman Sachs must be stopped from leasing or buying large tracts of land in Africa because this practice has become a serious threat to the continent's food sovereignty," Ms Anne Maina, an advocacy coordinator at the African Biodiversity Network said at a press conference held in Nairobi last week.
The press conference had been organised on Monday last week to coincide with a planned release of a report on the extent of African farmland acquisitions by World Bank Group which however failed to take place.
"The report on land acquisition has been delayed as certain key data was not available in time for publication," Ms Fionna Douglas, the World Bank Group's programme manager in charge of Agriculture and Rural Development said in an e-mail reply.
She added, "Hopefully, the report will be available in the next few months."
The acquisition of African arable land by foreign interests is fast becoming a major preoccupation of policy makers in Africa.
When ministers in charge of meteorological departments from across Africa met in Nairobi last month for their first ever international conference, the discussions veered off weather fluctuations and climate change to focus on a phenomenon that has also caused concern in many quarters including UN.
"There are many losses associated with fencing off large chunks of land, bringing in foreign labour to till it and carrying all the harvests out of the host country," Mr Hans Rudolf Herren, President of the Washington-based Millennium Institute told the press at the Nairobi Conference.
Mr Herren was among a group of experts that helped the African ministers in drafting the Nairobi declaration on African meteorology.
Usually, African farm acquisitions involve financially-muscled companies from the oil rich Arab countries with no arable land back at home come to the continent to buy or lease big chunks of land to grow food for their citizens.
At the same time that Citadel was laying out its plans, a Saudi-based agricultural investment firm Agroinvest was unveiling its plot to raise about Sh40.5 billion ($533 million) for foreign and local farm investments.
Agroinvest, also known as the International Agriculture and Food Investment Company, is one of the private firms that Gulf Arab countries have formed to buy or lease land in developing nations with the aim of transforming themselves from food importers to food sufficient nations.
Food security experts say the decision to allow rich oil producers to acquire African lands for growing food undermines the principle of comparative advantage that has driven international trade from time immemorial.
The principle states that countries without the natural capacity produce a particular product will usually feel inclined to import it from countries that produce it naturally, depending on utility.
Export levels
"The best that countries that are interested in Africa's food crops can do is to extend financial help to host countries with arable land to elevate their domestic production to export levels," he said.
Alternatively, argue the experts, African governments need to increase their budgetary allocation to agriculture to meet the rising challenges.
In 2003, African heads of states and governments agreed at a meeting in Maputo to raise national budgetary allocations 10 per cent of national budget target, a declaration that has largely gone unimplemented.
Kenya is no stranger to land acquisitions as the country's conservationists, politicians and the civil society organisations have been battling firms like the US-incorporated Dominion Farms Limited which is currently involved in the reclamation of the Yala Swamp.
"They have taken over a communal land and the chemicals that they use pose danger to biodiversity at the Lake Victoria's fish breeding grounds," argues Ms Esther Betty, an official of RODI-Kenya - one of the NGOs that have been battling the firm's activities.
Mr Calvin Burgess, CEO of Dominion Farms Ltd has discounted claims of environmental degradation, saying his investment on the Lake Victoria's basin represents a new social business model that has positively changed the lives of local communities.
"This is a revolutionary way of doing business in Africa that combines Western agribusiness practices to employ hundreds of locals and feed thousands throughout the country," Mr Burgess says of his Kenyan investments in one of the articles posted at his firm's website.
He has since won the support of a section of the sitting MPs from the region who have openly hailed his model as a catalyst for employment creation in the area.
In Kenya, acquisitions of land by foreign companies and states assumed a national outlook in late 2008 when President Kibaki signed a bilateral agreement with Qatari government to build the country's second seaport in Lamu.
Not clear
Under the bilateral agreement, the gulf state was to be leased some 100,000 acres of the Tana delta land in appreciation to the huge capital investment to grow food for its citizens.
The first 40,000 acres of the land administered by the Tana and Athi Rivers Development Authority (Tarda) was to be appropriated immediately to the Qataris but residents say.
The activists say over 60,000 heads of cattle that graze in the delta during dry seasons and crops such as rice, mangoes, maize, cassavas, bananas, melons, peas and vegetables would be at risk if the land is fenced off for commercial agriculture.
The same reasoning was used last year by activists and area residents to block the setting up of both the Tana Integrated Sugar Project proposed by Mumias Sugar Company and a similar project proposed earlier by the Mat International.
The first phase of the Mumias sugar project was, however, approved by National Environment Management Authority.
"The arrangement with Qatari government was made incognito and none of the pastoralists who face displacement if the land is leased out for commercial purpose have any faint idea how long the contract is likely to last," says Mr Paul Matiku, an executive director at Nature Kenya.
It is, however, not clear whether the Government is still keen on pursuing its bilateral agreement with the Qatari government as the construction of the Lamu port featured prominently last week when president Kibaki made his latest visit to China.
In Kenya, agriculture is the economic mainstay, providing employment to 80 per cent of the country's rural population.
Mr Gathuru Mburu, the General Co-ordinator of African Biodiversity Networks says inviting foreign interests to invest in an African country's arable land not only poses the problem of displacing locals, but has a potential of causing food insecurity and unemployment the largely agro-based economies.
"One condition of these land acquisitions is that labour, equipments and logistics companies that are used to till and transport food out of the country are always foreign," said Mr Mburu.
Late last year, main international agencies like World Bank, FAO, UNCTAD, and IFAD crafted a set of seven principles to make farmland acquisitions a win-win venture for foreign investors and the African people.
Under the new principles, the foreign firms and states seeking farmlands in the continent are expected to respect existing rights to land and associated natural resources and ensure that such investments do not jeopardise food security of the host country.
The international organisations have also called for transparency, good governance, and a proper monitoring of the processes for accessing land and other resources by incorporating all the people who are likely to be materially affected by the acquisitions.
The investors have the obligation to ensure that projects respect the rule of law, reflect industry best practice, are viable economically, and result in durable shared value; are socially sustainable and pose limited negative environmental impact.
"At the moment, it is difficult to know how the crops that are grown in the acquired lands affect the immediate communities because once the foreigners fence off their land, it is difficult to monitor whether they are growing genetically modified foods or using their chemicals properly," said Ms Bett.
In a keynote address delivered last month at a food forum held in Brussels last month under the theme, "The Impact of the World Food Demand in Africa: Addressing the Land Property Issue," former Ghanaian President Jerry Rawlings called on African states to craft legislations to govern land acquisitions by the foreign interests.
"Developing countries in general, and sub-Saharan Africa specifically, are targeted because of the perception that there is plenty of land available, because its climate is favourable to the production of crops, because the local labour is inexpensive and because the land is still relatively cheap," Mr Rawlings said in a speech that is available at his blog.