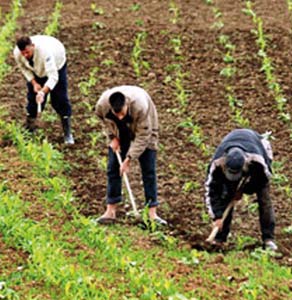 Reuters | Fri Apr 30, 2010
By Tom Pfeiffer
MEKNES, Morocco (Reuters) - Morocco plans to lease 30,000 hectares (74,000 acres) of farmland per year to improve yields, satisfy growing national demand and boost export sales, its agriculture minister said on Thursday.
But Aziz Akhennouch told Reuters the north African kingdom had no plans to join a continent-wide trend of selling farmland outright to foreign companies and governments that want to secure their future food supplies.
Morocco has leased 80,000 hectares (200,000 acres) in two batches in the last decade, drawing more than 13 billion dirhams. Some 24 percent of the investors in the 296 farms were foreigners.
"We are offering 21,000 hectares (in the next lease tender) but the goal is to offer 30,000 per year so we are offering 21,000 first and will probably offer another 10,000 before the end of the year," Akhennouch told Reuters in an interview at Morocco's annual agriculture show in the city of Meknes.
He said around 20 to 25 percent of the demand was coming from foreigners and the government "will try to satisfy all operators as agriculture needs its Moroccan farmers but we also need groups with expertise, know-how and the necessary means.
Akhennouch, who is Morocco's Minister for Agriculture, Rural Development and Fisheries, played down the prospect of selling farmland outright.
"We are in a logic of partnership, not of selling land but leasing it long enough, for 20 to 40 years, to give investors the visibility they need," he said. "And I think we are succeeding well."
"The comparative advantage of Morocco is that we have real farmers already there when the investor comes along. It's something ancestral and ... profoundly rooted."
WHEAT IMPORTS
Akhennouch this week forecast a 2010 national cereals harvest of around 8 million tonnes, higher than a recent estimate by the country's main grains industry body.
Asked how much grain Morocco would need to import after the harvest to satisfy national demand, he said: "For soft wheat, it will be roughly 36 million quintals."
"I think we will assure supplies for a large part of the year but will have to import in certain months."
The head of Morocco's grain import agency said in January the country would need to import between 1.3 million and 1.7 million tonnes of foreign soft wheat before this year's harvest.
Akhennouch said cereals would remain a vital element in Moroccan agriculture even as the country maximizes production of export crops such as tomatoes, olives and citrus fruit under its Green Morocco Plan.
The government was targeting a national grain harvest of 7.5 million tonnes per year between 2010 and 2020, he said.
"We're talking about an average," he said. "There will be highs and lows, but our goal is to improve yields.
Farming accounts for up 17 percent of the country's gross domestic product (GDP) and employs 40 percent of the total workforce.
More than 70 percent of the farmers own just 5 hectares on average, and have scant financial resources to modernize agriculture without aid and new investment flows.