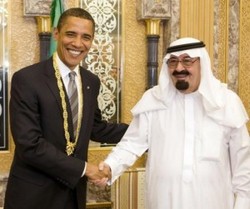 US President Barack Obama receives a gift from Saudi Arabia's King Abdullah during a meeting at the king's farm outside Riyadh June 3, 2009 (Reuters Pictures)
Reuters | Fri Apr 30, 2010
• Direct contracts for grain, other commodities eyed
• Farmland leasing and purchasing also planned
• Long-term food security, water concerns cited
By Christine Stebbins
CHICAGO, April 29 (Reuters) - Saudi Arabian investors are looking to expand their agricultural investments in the United States to secure long-term food supply because of water shortages in the desert kingdom, Saudi officials said on Thursday.
Investments could range from buying crop land, obtaining long-term land leases of 30 years or more, taking equity stakes in major food companies or contracting directly with farmers to grow crops, they said.
"We have a very good relationship with the United States, not only politically but from the agriculture side. We are importing many agricultural products from you. The United States is one of the countries for our initiative," Abdullah Al-Obaid, deputy minister for research and agriculture development, told a U.S.-Saudi business forum here.
The United States is one of about two dozen countries that Saudi private investors, in consultation with the government, are targeting for agricultural investments.
"The countries that we have to invest in have to have the abundance in land and water," said Taha Asad Alshareef, a member of King Abdullah Initiative for Agro-Investment Abroad. "We have identified two dozen countries and to date we have visited nine of them."
The nine are Turkey, Ukraine, Egypt, Sudan, Ethiopia, Kazakhstan, the Philippines, Vietnam and Poland.
Soaring world food prices that peaked in 2008 and dwindling water supplies from aquifers are behind Saudi Arabia's drive abroad.
In 2008, the Saudis announced they would end a 30-year drive to grow their own wheat and reduce wheat output 12.5 percent a year due to reduced water supplies.
In November 2009, they said they would phase out "water intensive" crops and import all their wheat needs by 2016.
The Saudis currently consume about 2.6 million tonnes of wheat a year. Officials recently said the country will import 1.2 million tonnes of cereal grains this year.
The Saudi agriculture minister said on Wednesday that investors are looking at opportunities to buy into farmland in Algeria and have already started investing in countries to secure food supplies, including Egypt and Sudan.
Contracting directly with U.S. farmers to grow crops on their farms is "the best option for us," Alshareef told Reuters.
Direct contracting -- where an end-user like a snack maker or specialty vegetable oil refiner arranges production one-on-one with the farmer -- is a growing part of U.S. agriculture due to the premium prices offered.
Japanese tofu makers, for instance, have had contracts with U.S. growers to produce tons of organic or non-genetically modified soybeans for several years. Specialty corn hybrids and wheats, like hard white winter wheat, are other examples.
The Saudis have established a government arm, the Food and Agriculture Company, as an investment vehicle capitalized at 3 billion Saudi riyals ($800 million).
Private Saudi investors have also formed a joint venture, International Agriculture and Food Investment Company (Agroinvest), capitalized at 2 billion riyals.
The main crops targeted by the Saudi investors to be produced in foreign countries are rice, corn, barley, wheat, sugar, corn, soybeans and other oilseeds. There will also be investments in the production of poultry, fish and livestock. (Editing by Steve Orlofsky)