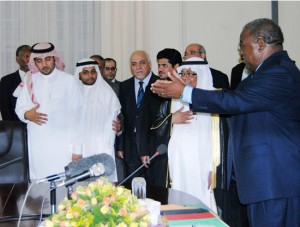 UKZambians Magazine | Wednesday, 21 April 2010
A ten-member technical delegation from Saudi Arabia is in Zambia to study its different economic sectors for possible investment as a way of consolidating long-term bilateral relations.
Foreign Affairs Minister Kabinga Pande, after meeting the team here Monday, described the visit by the Saudi delegation as the beginning of a long-term bilateral relationship. Pande said the delegation had come at the right time when Zambia was in need of investment in its various sectors in order to improve its economy. He urged the delegation to take advantage of their visit to explore various sectors in which they can invest.
Pande stated that the country was endowed with rich natural resources which needed to be developed by investors, thereby strengthening Zambia's economic muscle.
The minister observed that relations between the two countries would not only benefit Zambia but Saudi Arabia and would also open up a direct link in trade between the two countries.
He urged delegation members to identify their area of interest in various sectors of the economy and work together with their
Zambian counterparts to create investment.
He noted that Zambians were in dire need of good and affordable houses, adding that it would be impressing for some investors to invest in the housing sector.
In the area of agriculture, Pande said the country had plenty of land which needed to be developed and used to produce food.
With the right investment in the agricultural sector, he said the country had the potential to feed the whole world as it had plenty of fertile land and abundant water.
He said the government of Zambia was practising what he called, "Economic diplomacy" by co-operating with other countries which could help develop it by bringing their investment.
Meanwhile, delegation leader Hassan Attan said his team was here to explore investment opportunities and to enhance the bilateral relationship.
Dr Attan, who is the Saudi Ambassador to Zambia, hoped the two countries would benefit from the co-operation saying his government and private sector were eager to invest in Zambia .
"This is a great opportunity for us to invest in Zambia and Zambian importers can also import and export their products to and from Saudi Arabian." he added.
A Saudi engineer in the Ministry of Agriculture, Fahad Ali Aloraini, said his country was interested in investing in the Zambian agriculture sector in order to improve the food security of the two countries.
Aloraini said once the investment deals were completed, Zambia would be able to export its agriculture producce to the entire world which would be of benefit not only to the two countries but the whole world.