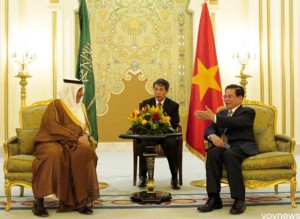 Reuters | Riyadh: Sun, 11 Apr 2010
Vietnam, the world's second-largest rice exporter, has welcomed Saudi firms' interest in investing in rice cultivation in the country.
Like other Gulf countries that rely on food imports, Saudi private firms have intensified efforts over the last two years -- with the blessing of their government -- to buy or lease land in developing nations to ensure supplies after a spike in commodities prices in 2008.
The kingdom is among the world's top five rice importers.
Vietnam's President Nguyen Minh Triet on Saturday began a rare visit to Saudi Arabia flanked by officials from state oil units Petrovietnam and Petrolimex.
Before meeting King Abdullah later on Saturday and officials at Saudi Aramco on Sunday, Triet met Saudi business leaders who asked for flexible investment regulations and access to Vietnam's farmlands and for its abundant pool of workers to be brought over to the kingdom.
"We certainly want to invest in Vietnam's rice cultivation," Mohamed Al-Rajhi, a member of the Saudi Council of Chamber, told the gathering. Triet agreed. "All of your proposals shall be met immediately," he said. "In fact we will exceed your demands".
He said agriculture, oil and industry were sectors in Vietnam he was keen to see Saudi capital being invested in.
A senior Vietnamese official said the two countries would sign a protocol agreement to boost cooperation in the oil, gas and petrochemical industries and mineral resources.
"The agreement will basically encourage Saudi Aramco to invest in and supply crude oil to oil refineries the Vietnam government plans to build and at the same time open the door for Petrovietnam to engage in upstream activities in Saudi Arabia," the official said.
A senior Petrovietnam executive said one of the refineries, to be located in the province of Vung Tau, would offer up to 70 percent of its capital to a foreign partner and have a capacity of 200,000 barrels per day (bpd).
"Petrovietnam will take a very small share of the capital, up to 30 percent. The remainder can be given to one or two foreign investors," said the executive who asked not to be named because he was not allowed to discuss the details of the agreement before its signature.
"We are encouraging Saudi Aramco to join us".
Nguyen Quang Kien, deputy general director at Petrolimex, said his firm is seeking foreign partners to get involved in another refinery with the same production capacity which would be located in the Van Phong Bay.
"The plan is for us to take 30 percent and the rest will come from other partners. The refinery will have an overall capacity of 10 million tonnes per year, or 200,000 barrels per day," Kien told Reuters. Petrolimex commands 55 percent of the country's total retail fuel market.
"We just obtained approval from the government for the project and the land allocation. We of course are looking to the Middle East for crude oil to supply this refinery".
Vietnam, a country of 86 million people and an annual economic growth topping 7 percent, has only one oil refinery -- the 140,000 bpd Dung Quat plant -- which is struggling with operating glitches.
Gasoline demand in Vietnam, Asia's second-largest importer of the auto fuel, is still growing. Its imports are projected to increase by about 10 percent this year.