IRIN | 26 March 2010
JAKARTA - The Indonesian government's plan to develop a food estate in Papua has come in for heavy criticism for potentially marginalizing small farmers and threatening the environment.
The government hopes the 1.6 million hectare Merauke Integrated Food and Energy Estate in Merauke District will turn Indonesia into one of the world's biggest food producers.
The project will need between 50 and 60 trillion rupiah (US$5.5 billion-$6.6 billion) in initial investment and is expected to create thousands of jobs, Deputy Agriculture Minister Bayu Krisnamurthi said.
Some 36 local and foreign companies have expressed interest and the government will spend between 2.5 and three trillion rupiah on infrastructure, he said.
"We need major investors to come in first," Krisnamurthi told reporters this month.
Crops to be grown include rice, sugar cane, soya beans and maize, he said.
NGO activists have rejected the plan, saying the estate could bring more harm than benefit to the local population.
"Food is not just a commercial commodity but is also a basic human right, and leaving food provision to the private sector can hinder people's access to food because corporations are driven by profit," Elisha Kartini, an activist from the Indonesian Farmer Union (SPI), told IRIN.
The Papua region, comprising most of the western half of the island of New Guinea, is divided into two provinces – Papua and West Papua. They are the poorest of Indonesia's 32 provinces, with 35 percent of its 2.6 million inhabitants living below the poverty line, according to the National Bureau of Statistics, against a national poverty rate of 14.15 percent in 2009.
Competition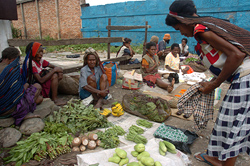 Indonesia's leading environmental group, Walhi, warned that the project would amount to a land grab and cause local farmers to suffer because they would be unable to compete with major corporations.
"The foundation of our food security is still vulnerable," Muhammad Islah, Walhi's water and food campaigner, told IRIN
"Farmers are still struggling with scarcity of land in the face of market liberalization and government policy unfavourable to small farmers," he said.
"If this project goes ahead, it would amount to legalised land-grabbing when domestic and foreign businesses are allowed to compete with small farmers."
Agriculture Minister Suswono said Indonesian companies would control interests in the estate and foreign ownership would be limited to 49 percent.
Deputy Minister Krisnamurthi said the estate was expected to contribute one million metric tonnes in rice production annually and between 800,000 and 1.2 million metric tonnes of sugar. Indonesia produces about 60 million tonnes of rice annually.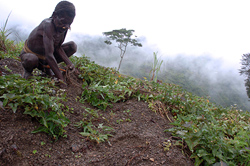 Coordinating Minister for the Economy Hatta Radjasa said the project would start this year but details were still being worked out and tried to allay fears that it would damage the environment.
"We have to really make use of idle land, so forest areas must remain intact and deforested areas will be converted into plantation areas," he said.
Environmental threat
But Walhi warned that the estate would threaten the ecosystem and its ecological balance.
"Large-scale land conversions in Merauke, which consists of predominantly low-lying land and marshes, could cause it to lose its land areas," Walhi said in a statement. "The decrease in forest and water catchment areas could result in a faster intrusion of sea water to the land."
The West Papua Advocacy Team, a Papuan pressure group, said the plan entailed an expansion of Merauke's population of some 175,000 people to up to 800,000.
The group warned that the project would likely involve a state-supported inflow of non-Papuans along the lines of decades of "transmigration policies" adopted by the government of former president Suharto.
The policy has in the past been blamed for ethnic conflict in the Indonesian part of Borneo and Sumatra islands.
"That conflict has arisen as local populations are marginalized in their own homelands as government supports programmes that favour the internal migrants to the disadvantage of locals," the group said in a statement.
"There is growing opposition to the scheme from small-scale Papuan farmers who say they fear their traditional livelihoods will be threatened by the large-scale, state-subsidized commercialization of agriculture," it added.