Reuters | 19 March 2010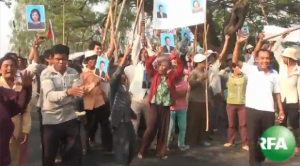 By Prak Chan Thul
PHNOM PENH - Nearly 1,000 angry Cambodian villagers rallied on Friday to oppose what they said was land-grabbing by a local business tycoon, the latest in a series of flare-ups over land disputes in the impoverished country.
The protest in Kompong Speu, 48 km (30 miles) from Phnom Penh, came a day after irate farmers burned down makeshift wooden shelters on a sugar plantation, accusing the company of colluding with the authorities to rob farmers of their land.
Villagers who spoke to Reuters by telephone said some protesters had planned to torch offices belonging to the Phnom Penh Sugar Company, owned by Senator Ly Yong Phat, which was awarded a 9,500-hectare land concession there. The plan was later called off, they said.
Farmer Sun Theng said he had been working the land for 20 years and he and other villagers had been offered meagre compensation of between $100 and $200 for each hectare. They now faced arrest over the torching of the shelter, he said.
"Villagers didn't agree with it but the company said 'if you don't take it, you people will get nothing'. They became angry," Sun Theng said, adding that the protest would continue until there was an amicable solution.
Another farmer, Sao Choeun, added: "The company looks down on us -- how can we survive with $200 per hectare?"
BIG CONCESSIONS
In a move to attract foreign investment to improve its nascent economy, Cambodia has awarded big concessions to companies, mainly from China, Vietnam and South Korea, to run mines, power plants and farms.
Cambodia is also relying on foreign help in modernising and expanding its agriculture, mining and energy sectors to create jobs and boost exports, especially of commodities like rice, rubber and sugar.
However, that has led to a rise in what rights groups and international donors say is a trend of forced evictions by state officials profiting on the sale and lease of farmland and urban real estate for use by foreign and local companies.
Indigenous Cambodians on Wednesday urged the government to suspend hundreds of concessions awarded to foreign and local companies they say are operating on disputed land [ID:nSGE62G0A9].
The issue illustrates a risk for investors in Cambodia, where corruption is rife and land deals are sometimes agreed with influential politicians and officials without going through proper legal channels.
Chheng Sophors, an investigator for local human rights group Licadho, said land disputes were becoming increasingly common and a long-term solution was needed.
"Before giving a concession, the government should study carefully the impact on the local communities," he said.
Kang Heang, the provincial governor, said the villagers had cost the company at least $20,000. He blamed rights groups, rival businessmen and politicians for stoking the unrest.
He said the land belonged to the state and the deal was transparent, adding that arrests would be made.
"This kind of thing is normal. When there's new investment, there are problems," Kang Heang told Reuters. (Editing by Martin Petty)
Below: video report of protest from Radio Free Asia