Reuters, March 8, 2010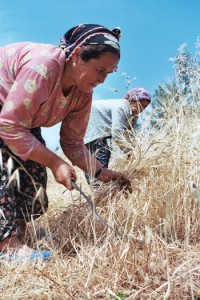 By Eman Goma
KUWAIT (Reuters) - Kuwaiti firms and other Gulf Cooperation Council members are looking to invest in agriculture and food in Turkey, and could sign a number of contacts this year, the head of Turkey's investment agency said on Sunday.
"We have got a lot of interest...specifically Kuwaiti companies," Alpaslan Korkmaz told Reuters on the sidelines of a conference in Kuwait city on Sunday.
"God willing this year we will have very interesting realised investments from the GCC in Turkey in the agro-food business," he said. He declined to detail specific deals.
Investments would be in cereal production, animal farming and food processing, he said.
Investors, mostly from the Gulf Arab region and South Korea, began buying and leasing farmland in developing countries in Africa and Asia to cut their dependence on imports of staples as commodity prices surged towards record peaks in 2008.
Kuwaiti investors were also interested in the real estate, renewable energy and banking sectors, Korkmaz said.
"We see a continuous stable increase in investments from the GCC. Last year it was a bit more than $500 million entering (Turkey) so hopefully this year we see it above $1 billion," he said.
FDI into Turkey totalled $18.2 billion in 2008 and $22 billion in 2007, but the financial crisis reduced inflows to the country sharply, with 2009's amount equal to that seen in 2005.
(Reporting by Eman Goma; Editing by Simon Webb and Jon Boyle)