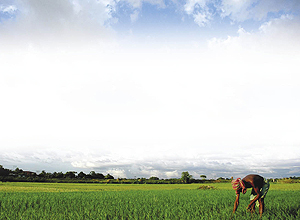 The Jakarta Post | Tuesday, March 9, 2010
Nethy Dharma Somba
Jayapura A planned large-scale food production system in Merauke, Papua province, aimed at improving national food sustainability, could prove detrimental for locals, an activist says. Lindon Pangkali, from the WWF's Sahul Papua region, warned that if the majority of land was used for the Merauke Integrated Food and Energy Estate program, residents would lose their agricultural fields. "Where else they would do their agricultural activities? They are still dependant on nature for their livelihood," he said Monday. Lindon said such a condition would marginalize local people as they have no skills they could
use to compete for alternative employment.
The planned food estate, which would span 1.6 million hectares, is one of President Susilo Bambang Yudhoyono's 100-day programs.
Deputy Minister of Agriculture Bayu Krisnamurthi said the government would start developing the project in 500,000 hectares with the first harvest expected in 2012.
The unbalanced ratio between the project's area and the available manpower could pose another problem, forcing the companies involved in the project to bring in workers from outside Papua.
Head of the Santo Antonius Foundation's social economic development body, Jago Bukit, said if a hectare of land needed four workers, the project would need 6.4 million workers.
"The number is three times as much as Papua's population now, which is 2.1 million."
The project, which has been opened to local and foreign investment, would require Rp 50-60 trillion. It was reported foreign investors from China, Korea and Singapore have expressed their readiness to invest in the projects.
Jago said 36 foreign and domestic investors, six of whom already had licenses, would take part in the program. They include Bangun Tjipta, Medco Group, Comexindo, Digul Agro Lestari, Buana Agro Tama and Wolo Agro Makmur.
"They have had the license to use the land for 60 years and can be extended up to 90 years."
The cooperation forum of Papua NGOs urged both the Papua provincial and the Merauke regency administrations to issue a special bylaw on customary law community and the use of natural resources. The forum also calls on the implementation of a special bylaw on sustainable forest management in Papua and the issuance of special bylaws on the rights of Papuan customary law community and on people-based forest management. Environmentalists have expressed worries the project would add to massive deforestation.
Since regional autonomy, infrastructure development in the province has resulted in continuing forest exploitation.
Papua's intact forest is 31.5 million hectares, while 5 million hectares were categorized as critical areas between 1973 and 2003.
The government has designated a 4,825,786-hectare forested area in Papua as a conservation forest, or natural preserve.