Jakarta Globe - March 04, 2010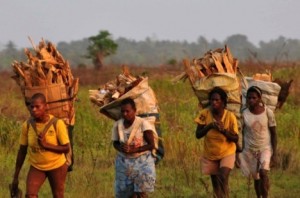 Arti Ekawati & Fidelis E. Satriastanti
Activists warned on Thursday not to put too much hope in the Merauke food estate, saying it would do little to provide food security or eliminate starvation in Indonesia.
"It will eventually decrease our dependence on [importing] food crops, but it does not automatically reduce famine in our own country. It does not work that way," said Witoro, the head of a food-crop working group from the Prosperity Village Alliance, which comprises 18 nongovernmental organizations focused on implementing sustainable living in villages across the country.
The Merauke project is a 1.6-million-hectare integrated food-production zone where companies will grow, process and package their products. It has been touted as a major destination of foreign investment and a source of jobs in impoverished Papua. The government has predicted the population of Merauke could rocket from about 175,000 to 800,000 as a result of the project.
The Merauke estate is part of the government's plan to develop agricultural estates in remote areas such as Papua and Borneo to become self-sufficient in food production and eventually a major food exporter.
However, Witoro said the government must address farmers' welfare to effectively solve famine and poverty.
"There's no immediate connection between increasing food-crop production with decreasing famine and the poverty rate. If the government wants to eliminate famine, it should give farmers access to more land, and not give it away for corporations," said Witoro.
He added that palm oil growers could not even afford to buy palm oil.
He also warned that the project could end up a failure, like Suharto's "mega rice" project in Central Kalimantan, because of overlapping regulations.
The "mega rice" project aimed to transform a million hectares of peatland into rice fields, but failed and resulted only in environmental damage.
Tejo Wahyu Jatmiko, the coordinator of the alliance, said the Merauke estate was designed for the export market rather than to meet Indonesia's food demands .
"The whole grand design is actually leading toward major exports from the food estate, attracting foreign investors aiming for the world's food security, but there's a big question mark for Indonesia's own food security," claimed Tejo.
He cited a government regulation stipulating that produce from food estates can only be used for domestic purposes in emergency conditions, such as natural disasters.
But Hilman Manan, director general of land and water management at the Ministry of Agriculture, said the main goal of the program was to provide food for Indonesians.
"After the domestic market has reached self-sufficiency, then the commodities are allowed to be exported," Hilman told the Jakarta Globe.
He said that the government needed large-scale investments to boost the production of commodities, because the country is prone to natural disasters that can lead to harvest failures.