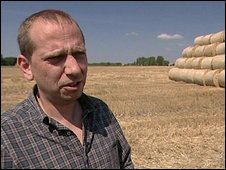 Agriprods | February 24, 2010
By Sally White
Going global is great in terms of ideas, but not so much when it comes to checking them out. Take the new farming opportunities opened up by food shortfalls forecast as the world's population surges – it is expected to rise from the current 6.8 billion to nine billion by 2040.
Since Asia is short on land, investors have been focusing on unexploited fertile regions such the Ukraine. The rich dark soil and the vast fields of wheat and other crops earned it the nickname "bread basket of Europe" in Soviet times, before the breakdown of the collective system sent productivity plummeting. Now investment is planned to turn agriculture there into an internationally competitive sector again. Numbers are looking good but are mainly forecasts, and if you are based in London or Paris, they are being generated an awful long way away.
Fortunately, it is not just agriculture that is global, there is now a good local analyst at brokers BG Capital (based in Ukraine, Belarus and Georgia) who has run his eye over the spread sheets. I like his headlines such as – "buy strategy, not speculation"! Only one in his coverage of companies building and working agriculture land banks there is being marketing on London's stock market, which is Landkom. Three others have come out via Cyprus and are quoted in Germany – Mriya Agroholdings, Sintal Agriculture and MCB - and one, Black Earth, on the OMX in Stockholm.
He is pretty positive on the Ukraine as it has abundant land resource, only ten per cent of which is currently controlled by corporations. Yet expansion costs are low and there is state support - for the most efficient. There seems to be a local view that the rich should get richer! No wonder the companies are attracting attention. BG Capital believes the leaders are set to more than double land banks and increase crop yields by around 50 per cent in the next five years. At the moment Ukrainian crop yields are "30-60 per cent below those in the EU practically across all crops." There is potential for Ukraine's agriculture yields to "double within the decade". Land prices, however, says BG Capital are unlikely to soar in the face of new buyers. With more than 80 per cent of the land in the hands of private owners, the market is not exactly short of supply, though whether farmers will sell  is another matter.
His picks are among the most local of companies – Mriya and Sintal. On Landkom he has merely a "hold" at the moment. Here is why - ""inefficient planting and land bank strategy".Landkom has had more than a few problems and revamped itself last year, bringing in new management. Former chief executive Richard Spinks stepped down and the company initiated a cost-cutting programme, which was fairly radical. The land bank was shrunk by 40 per cent and the company increased its share of cultivated land – up 70 per cent compared to 2008. Backed by this it was able to raise US$16.1 million last November to support its operations.
Forecast now from BG Capital is that revenue will have risen by 37 per cent in 2009 and will be able to jump a further 79 per cent this year, to US$26.2 million. On those figures the losses will drop from US$41 million at EBITDA level in 2008, to US$11.7 million in 2009 and move into the black in 2010.
New CEO is Vitaliy Skotskyk, a Ukrainian with 12 years local agricultural experience. One of his first initiatives was to make a case for VAT exemption, for which Landkom lacked the necessary government approval. The state of Landkom in 2008, as highlighted by BG Capital, was that it had bought vastly more land than it could cope with. Of the 115,000 hectare land bank, only nine per cent was harvested. Last year, under Skotskyk, there was production on 45 per cent of the 65,900 hectares under its control. This is a third of its peer's average harvested area, but leaves plenty of scope for expansion. "We forecast Landkom will expand its land under cultivation at a 14.1 per cent compound annual growth rate over 2010-18," says BG Capital. Although this is going at a fair lick, the base is a very small one.
Current management is not too complimentary about its predecessor, apparently pointing to the resulting poor planning, inefficiency and to the lack of local knowledge. BG Capital does not believe that the new team will be able to turn the company around completely, producing profits at pre-tax level, for a couple of years. It is a pity that BG Capital's views were not in circulation when Landkom came to the market a couple of years ago. In recent months better understanding of Landkom's problems  - from BG Capital's note -and stock market uncertainty around the recent Ukrainian election have brought the price down from its 12-month high of 19p to around 5.25p. Just to let everyone know, BG Capital is not forecasting any upturn yet.