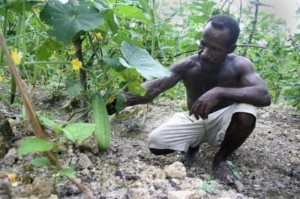 Agence France Presse | 21 February 2010 | en français
By Jerome Rivet (AFP)
JAKARTA — Following Brazil's trail, Indonesia is encouraging foreign and local investors to lease huge swathes of fertile countryside and help make the country a major food producer.
"Feed Indonesia, then feed the world," was the recent call from President Susilo Bambang Yudhoyono after the government announced plans to fast-track development of vast agricultural estates in remote areas like Papua and Borneo.
Between now and 2030 Indonesia expects to become one of the world's biggest producers of rice, maize, sugar, coffee, shrimp, meats and palm oil, senior agriculture ministry official Hilman Manan said.
The world's fourth most populous country, with 235 million people, Indonesia has been self-sufficient in rice since 2008 and is already the top producer of palm oil.
"If everything goes well, Indonesia should be able to be self-sufficient in five years. And then it can start to feed the world," said Sony Heru Priyanto, an expert at Satya Wacana Christian University.
The first area targeted for development is 1.6 million hectares (3.95 million acres) in the southeast of the largely undeveloped province of Papua, around the town of Merauke.
The Merauke Integrated Food and Energy Estate will, the government hopes, create thousands of jobs and turn an impoverished and neglected corner of the Indonesian archipelago into a hive of activity.
"We chose Merauke because it's the ideal place for food crop cultivation, such as rice, corn, soybean and sugar cane. Merauke district has 4.5 million hectares of land; 2.5 million hectares are ideal for cultivation," Manan said.
"The area is flat and has a good climate. Its soil is appropriate for those crops. Sumatra is already congested with other plantations, such as palm oil, and Kalimantan is already full of mining areas and many plantation areas also."
He said Merauke's population of some 175,000 people could rocket to 800,000 if the plan takes off.
Foreigners will be able to control a maximum of 49 percent of any investing company, and will be offered incentives like tax breaks and reductions in customs and excise duties.
"In order to avoid any forms of monopolies or land grabbing, we're limiting each company to a maximum of 10,000 hectares of land," Manan said, stressing that the government was selling land use rights, not the land itself.
He said interest had come from Japan, South Korea and the Middle East.
But analysts said the region's biggest advantage -- expanses of "empty" land -- was also the main obstacle: the project will require up to five billion dollars in infrastructure investments, from a new port to roads and runways.
And there is opposition from small-scale farmers who say their traditional livelihoods could be threatened by the large-scale commercialization of agriculture.
"We reject the concept of the food estate. For us, food estates are another kind of land grabbing scheme. It's like going back to the era of feudalism," Indonesian Farmers Union official Kartini Samon said.
"The regular farmers' land will be taken by big companies and the farmers will be left with nothing," she said.
Such worries are well known in other countries with similar schemes, such as Brazil and Madagascar, where there is deep suspicion about food and bio-fuel companies monopolising agricultural land.
There are also fears for the rights of indigenous Papuans, an ethnic-Melanesian minority who have long complained that their traditional lands are being unjustly exploited by outsiders.