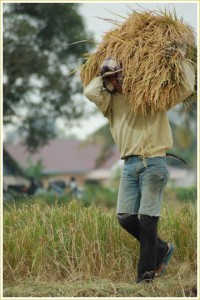 Reuters | 14 February 2010
by Amena Bakr
The UAE's Minerals Energy Commodities Holding (MEC) is in talks with Indonesia to lease around 100,000 hectares (247,100 acres) of farmland, the firm's vice chairman said on Sunday.
Gulf countries, mainly reliant on food imports, have ramped up efforts to buy land in developing nations such as Pakistan, the Philippines and Ethiopia to secure food supplies.
The farmland MEC plans to lease is located in Indonesia's East Kalimantan province, the region where MEC also has a railway and coal project worth around $1 billion.
MEC is a 50-50 joint venture between government run investment fund RAK Minerals and Metals Investments (RMMI) and privately run UAE based mining company Trimex.
RMMI is based in the Ras al Khaimah, one of the northern emirates in the seven member federation of the UAE.
Speaking to Reuters, Madhu Koneru, vice chairman, MEC, said: "In that area there is about 400,000 hectares of available land to lease and we are planning to lease around 100,000 hectares of that."
The land will be used for the production of rice, sugar cane, palm oil and fruits, Koneru added.
He said: "We are will be looking for partners for this project from the Middle East, because primarily the Middle East has been aggressive at trying to secure its food supplies."
MEC plans to start the agriculture project by 2011 and to transport the goods would use the 140 kilometres (86.99 miles) rail track that it is building to transport coal from a mine in the region to a port.
Involvement in farmland could also lead MEC to develop a fertilizer business in the region, Koneru said.
Koneru said: "The moment agriculture comes in we would need fertilizers and this would give us the opportunity to develop and expand our minerals business."
MEC, previously known as Middle East Coal, has expanded plans for the East Kalimantan region since first announcing its interest in a coal mine there in January 2008.
The company plans to invest $5.2 billion in infrastructure in the region to build a smelter, railway, and a power plant, the head of Indonesia's investment agency (BKPM) said last month.
IL&FS Transportation Networks (ITNL) would provide MEC with financing to build the transportation infrastructure, railway network and deep sea port.
ITNL is a subsidiary of India's Infrastructure Leasing & Financial Services (IL&FS), which has other links with the Middle East.
IL&FS shareholders include Abu Dhabi's sovereign wealth fund ADIA.