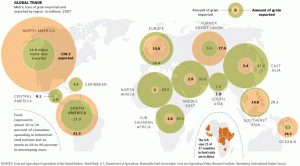 Yonhap | February 11, 2010
South Korea's state-run agriculture trading corporation said Thursday that it aims to set up an international grain purchasing and distribution company that can better insulate the country from fallout from global price hikes.
The plan calls for the new grain handling company to set up an international distribution network in the next 10 years, officials at the Korea Agro-Fisheries Trade Corp. said. This it said would allow it to purchase products directly from farmers in foreign countries and distribute the wheat, corn and beans around the world.
The company can also invest directly in foreign farms or control stakes in agricultural operations, the officials said.
At present, South Korea is overly dependent on companies such as Cargill, ADM, Louis Dreyfus LCD and Bunge that control the global grain market. A recent report by the Korea Rural Economic Institute (KREI) claimed the country often paid more for grain purchased through such companies than it would have if they bought products on the open market.
The officials said the new company can be set up initially with 200 billion won (US$172 million) in capital, that should allow it to purchase grain elevators or silos near areas of production and at harbors, and allow it to engage in trading activities at the Chicago Board Of Trade (CBOT). The CBOT is the world's leading grain futures market handling on average 21 percent of all the 2.2 billion tons of grain produced in the world every year.
The grain purchased can be shipped to South Korea, that has to imports most of its food from abroad, sold to overseas buyers and food processing companies, or traded on the futures market that can generate additional profits, according to the officials.
They said operations will be centered in areas that are overlooked by multinational grain companies like Cargill.
"Emphasis and investment will take place in 'untapped' regions including Southeast Asia, Central Asia and South America," a press release said.Participation in the Ukraine wheat
and bean markets
may be possible, with similar efforts to be made in such countries as Kazakhstan, Indonesia and Argentina
, they added. In Brazil
, the corporation may consider buying a local grain company
to gain market access.