VC Circle | 9 February 2010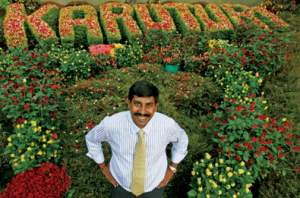 BOBY KURIAN & MADHAV A CHANCHANI
Stanchart PE and an arm of Reliance Capital are among the players believed to be in the fray.
Karuturi Overseas Ltd, a subsidiary of world's largest rose exporter Karuturi Global, is in advanced level of talks with private equity players to raise up to $100 million to fuel its expansion plans in Africa.
Banking sources told VCCircle that Standard Chartered Bank's Africa private equity arm and a unit of Reliance Capital are in talks to invest in the Dubai-based Karuturi Overseas. Several other PE players and hedge funds are also in the reckoning to buy stake in the subsidiary.
Karuturi Overseas is the holding company for the Karuturi Group's Africa operations, which has interests in floriculture and agriculture. The fund-raising talks were initiated back in 2008. The deal is taking time to close as there are issues regarding pricing and
structuring as Karuturi Overseas is a subsidiary of a listed firm, said one source familiar with the transaction. The Reliance Capital arm may look at co-investing in Karuturi in order to limit its exposure. Karuturi is betting on the growth story that is developing in Africa, where many investors and corporates are buying and leasing land at relatively cheaper rates for crop production. "While it is true we are raising capital, we are not in discussions with any PE player at present for a specific dilution in our Dubai subsidiary at the moment," said Sai Ramakrishna Karuturi, managing director of Karuturi Global, in an email response. Karuturi has acquired vast tracts of land in Ethiopia for its foray  into agriculture, which it believes will be its next driver of growth. The Bangalore-based company had earmarked a capital expenditure of $250-$300 million to fund its land acquisition in Ethiopia. While debt has been raised from the banks, the company now needs an equity infusion to meet the capex requirement. Karuturi bought around 311,700 hectares of land on lease in Ethiopia to start agricultural cultivation in a phased manner. It plans to grow crops like cereals, sugar and palm, which could be exported. Karuturi, whose rose export accounts for most of its revenues right now, annually produces around 555 million stems of cut roses which are exported to markets like the US, Europe, Japan, Russia and Australia. It has an area of 239 hectares in countries like Kenya, Ethiopia and India under green house for this. The company became the world's largest rose exporter after it acquired Ethiopia's Sher Agencies for $68 million back in 2007. Karuturi Global reported revenues of Rs 445 crore and a net profit of Rs 117 crore for FY09.