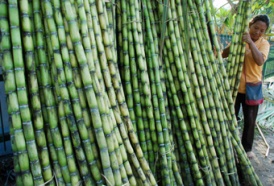 Jakarta Post | Tuesday, February 9, 2010
Adianto P. Simamora
The ambitious plan to set up a large-scaled food production system in Merauke, Papua province, remained unclear as Forestry Minister Zulkifli Hasan insisted Monday he would not issue licenses to convert conservation and protected forests.
"I will not issue licenses to convert conservation and protected forests, even if for the food estate, if there are lot of trees there."
The planned food estate, which would span 1.6 million hectares, is part of President Susilo Bambang Yudhoyono's 100-day programs to promote national food sustainability.
Yudhoyono was slated to launch the project this month.
The Agriculture Ministry, which took the lead in the program, was criticized for failing to meet the target to complete the project's preparation in 100 days.
The ministry claimed that failure had been due to the Forestry Ministry refusing to issue the necessary licence.
However, Hasan claimed his office had not received any proposals to convert the forest for food estate in Merauke.
Deputy Minister of Agriculture Bayu Krisnamurthi said the government would start developing the project in 500,000 hectares with the first harvest expected in 2012.
The project, which was opened to local and foreign investors, would require Rp 50-60 trillion of investment.
It was reported foreign investors including from China, Korea and Singapore have expressed their readiness to invest in the projects to cultivate including paddy to supply for domestic demand.
Hasan office said that the projects could utilize idle forest land in Merauke.
Environmentalists have expressed worries the projects would add to massive deforestation that and harm efforts to cut emissions in dealing with the climate change.
Since regional autonomy, the development of infrastructure has resulted in continuing forest exploitation.
Papua's intact forest is 31.5 million hectares, while 5 million hectares were categorized as critical areas from 1973 to 2003.
The government has designated a 4,825,786-hectare forested area in Papua as a conservation forest, or natural preserve.
However, for the past several years it has received pressure in the form of conversion into farmland, settlement and infrastructure development including illegal logging.