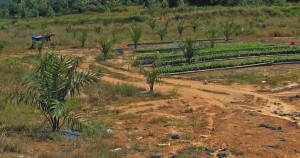 Jakarta Post | 02/06/2010
Aditya Suharmoko
The government is aiming to attract less than Rp 100 trillion (US$10.6 billion) in investment through the development of three special economic zones (SEZs) producing agricultural products this year.
The three zones will be located in Medan, North Sumatra, in Dumai, Riau, and in Merauke, Papua, Vice Agriculture Minister Bayu Krisnamurthi said Friday at the Coordinating Economic Ministry.
Medan, which produces crude palm oil (CPO), may attract Rp 12.5 trillion in investment, he said. "PT Perkebunan Nusantara III will provide 800 billion in initial investment."
Dumai needs Rp 20 trillion in investment for CPO production, Rp 2.5 trillion to come from PT Wilmar International Ltd., Bayu added.
"We want to increase CPO production, and raise CPO's added value by developing downstream industries. The SEZ approach is used to make private investors interested in developing downstream industries in a zone by using existing raw materials," he said.
Indonesia wants to develop half-processed goods to be sold abroad rather than sell raw materials.
Bayu said Indonesia expects to produce 40 million tons of CPO in 2020, almost double from 20 million tons targeted this year.
Merauke needs Rp 60 trillion in investment to become a food estate, producing various agriculture products, said Bayu.
"We're preparing land of 1.62 million hectares, suitable for food estate. But we initiate by developing from 500,000 hectares. In the first year we will start from 100,000 hectares," he said.
Bayu said the government would help develop supporting infrastructure in Merauke to ensure the region is ideal as an economic zone and viable for both domestic and foreign investment.
"Merauke is still *underdeveloped* so it needs a large initial investment of between Rp 2.5 trillion and Rp 3 trillion," Bayu said, adding that 32 investors from domestic and abroad such as the Middle East, Japan, Brazil and China were interested.
Vice President Boediono said Thursday the government would closely look at spatial planning to ensure more land for agricultural use, according to the Indonesian Chamber of Commerce and Industry.
Research from the Agriculture Ministry shows Indonesia has 190 million hectares of land, 101 million suitable for agricultural use. Now 64 million hectares is used for farming.
President Susilo Bambang Yudhoyono said the government would focus on 10 strategic and key commodities to feed Indonesia and the world.
Coordinating Economic Minister Hatta Rajasa said the government would cooperate with regional governments to build infrastructure in the three zones.
"Investment appetite is high. I am positive in 2010 investment will grow," he said, adding that the government has met with representatives from Japan and the US.
According to the National Development Planning Agency (Bappenas), Indonesia has identified six economic corridors - Eastern Sumatra-Northwestern Java, Northern Java, Kalimantan, Western Sulawesi, East Java-Bali-East Nusa Tenggara and Papua - to be developed through public-private partnerships.
Each corridor has its own focus industries.
Bappenas said Indonesia would need almost Rp 2,000 trillion in investment between 2010 and 2014 for infrastructure development.