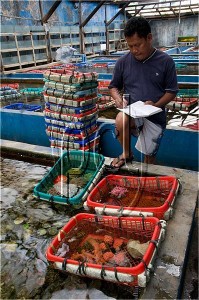 Jakarta Post | February 3, 2010
SBY government's food policy: Is there hope from food estates?
Subejo, Tokyo
One of the main priorities related to the agricultural and economic development of the first 100 days of the second term of SBY's administration is the preparation of a regulation on a large-scale food production system, the so-called "food estates".
President Susilo Bambang Yudhoyono is scheduled to launch the "food estate" program in February.
There are many controversies regarding the expected positive and negative impacts of the program and consideration of the potential benefits and losses after the program implementation has been hotly debated.
While the formal regulation on the food estate program has not yet been announced, various national media have reported on the main ideas behind the food estate organization, citing information from officials at the Ministry of Agriculture.
Food estates will be implemented in areas where huge tracts of empty land are still available and where it is not so populous, such as Merauke in Papua.
In Merauke, only 2.49 million hectares of cultivable land is suitable for food production. Food and biofuel products will be produced under the program.
The government will invite foreign and national corporations to participate in the program. Each investor can manage 100,000 hectares of land at the most under a first management rights agreement for a 35-year term, which can be extended for up to 90 years.
Foreign investors from China, the United Arab Emirates, Korea and Singapore have shown keen interest in food estate investment. Major national investors reportedly have a similar interest in taking advantage of the opportunity to benefit from the program.
Investors will be given various incentives and benefits, such as the food produced will be for export as the world food market is commonly better on price.
In order to promote and protect national interests, the government will impose a maximum stake ownership for foreign investors at a level of 49 percent on each food estate.
The huge investment in food estates, of course, promises the creation of new job opportunities, but the potential figures for recruited labor are still under debate. It is hoped the program will generate various tax revenues.
However, we should be careful in evaluating potential negative impacts, or even losses, by the introduction of food estates. If the negative impacts and potential of losses are bigger than expected benefits, it will be better to abandon the program.
First, we should take into account the cultivable land offered. The proposed land is land covered by forest or in other forms. If the land is covered by forest, it means there will be massive deforestation.
This is contrary to our commitment to the international community in maintaining forests under reforestation programs to deal with the reduction of global climate change.
Second, we have witnessed that in the last two years 42.6 million of our small-scale famers have the capability to supply national food demand, at least for rice self-sufficiency.
Why doesn't the government pay more attention to this sector and introduce various support programs to strengthen farming activities?
The various facilities and incentives proposed to big corporations under the food estate program are likely to be incompatible with small-scale farmers' protection that has always been advocated by the government.
Third, how can food estates integrate private business with farmers? As we know, in Merauke, the number of famers is relatively small. The real problem is the huge number of small-scale farmers or even landless people in rural Java, Bali and Nusa Tenggara.
If there is no mechanism for reducing the problems of small-scale farmers in populous areas under the introduction of food estates, it means the program is meaningless for the majority of our famers.
Fourth, to what extent can the government guarantee that there will be no competition between food estates managed by corporations and small-scale farmers?
Fifth, is the food estates system to be counted as a land reform program, as has been proposed by SBY since 2007? There are indications that some parts of the proposed lands are deforested lands.
If this strategy has been addressed as a kind of land reform implementation, it will have no meaning for millions of land-hungry people such as landless and small-scale farmers in the most densely populated areas where they are at the most need of farming land under a land reform program.
We should remember that food has different characteristics as compared to the other goods, the availability of foods links directly to human life. There is no life without food.
Giving special opportunities and priorities to food estate corporations to produce huge amount of food may lead to the possibility of a monopoly or oligopoly and, as a consequence, there will be a high risk to national food security.
All state stakeholders should wisely and comprehensively consider all aspects before implementing the food estate policy. If we follow unsuitable or ill-thought-out policies, it can be a dangerous trap not only for our generation but also for the next. The worst case scenario is that there will be no way back.
The writer is a lecturer at the School of Agriculture, Gadjah Mada University, Yogyakarta, and is a Ph.D candidate at the University of Tokyo. The article reflects his personal opinion.