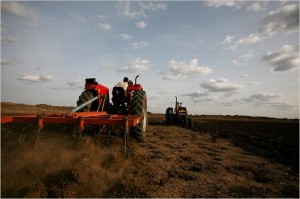 Jordan Times | 22 January 2010
AMMAN -- The government is working to attract local and foreign investors to finance the Jordanian agricultural mega-project in Sudan, a senior official said on Thursday. The government's proposal is currently open to all local, regional and international companies interested in the scheme, the deadline for which was recently extended by the Sudanese government, according to Agriculture Minister Saeed Masri.
"One international company has shown interest in taking part in the project so far," the minister told The Jordan Times yesterday, adding that the Kingdom will purchase the produce cultivated by the project at a price 10 per cent lower than the international market.
The project is expected to provide the Kingdom with 800,000 tonnes of wheat and 800,000 tonnes of barley per year, in addition to 200,000 tonnes of other crops such as fodder, the minister explained.
"Jordan needs to cultivate around two million dunums of wheat and barley to cover its needs of these crops," Masri said, noting that the Kingdom needs around 800,000 tonnes of wheat to cover its annual needs.
He indicated that a Philippine company with expertise in tropical crops will be hired to be in charge of the cultivation process, stressing that the ministry will be responsible for providing guidance and training.
"The ministry will establish a centre in Sudan to train local agricultural engineers on best practices to supervise the implementation of the project," Masri said, adding that the venture is part of the ministry's efforts to enhance food security in the Kingdom.
The minister said interested investors will visit Sudan to examine the plot of land before signing a memorandum of understanding with the ministry to start implementation of the project.
"The ministry has received unofficial positive indicators from Sudan to extend the deadline for implementing the project, which was the end of 2009, due to the credibility and seriousness of the Jordanian government to embark on the project," he underscored.
Masri indicated that the Sudanese government has claimed part of the land allocated for the project due to the delay in executing the scheme, leaving Jordan with 88,000 dunums, stressing that the postponement was due to the global financial crisis.
In 1998, the government signed an agricultural protocol with the Sudanese government which entitled Jordan to utilise vast fertile plots of land on the banks of the Nile to rear livestock and grow crops.
The government conducted a $359,000 feasibility study on the project in 2003, funded by the Islamic Bank in Jeddah.
The study showed that yields from the project would provide the Kingdom with at least 60 per cent of its annual needs of meat, 100 per cent of clover, 40 per cent of garlic, 100 per cent of bananas and 100 per cent of mangoes.