Saudi Gazette | 20 January 2010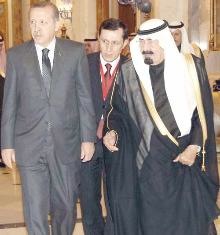 RIYADH – Turkish Prime Minister Recep Tayyip Erdogan expressed support for the Palestinians and called on Saudi businessmen to invest in his country.
"There is nothing more natural than for Turkey to show concern for the Palestinians and Gaza, not because we are Muslim but because we are humans," he told a meeting of businessmen at the Chamber of Commerce and Industry in Riyadh Tuesday.
"Would we not send aid to Haiti because they are Christian?" he said, according to the Turkish Anatolia news agency.
Erdogan said he expects trade exchange with the Kingdom to reach $10 billion in the coming years, and possibly $20 billion thereafter.
He said that Turkey was "extremely keen for Saudi businessmen to invest in Turkey". "It will give them the opportunity to open up to the European Union market. The Turkish economy in the coming years will become one of the strongest in the world," he said.
Erdogan, who was last week awarded the King Faisal International Prize for Services to Islam, added that he would "take measures to tackle the problems Saudi businessmen may face in Turkey".
The Turkish Premier also spoke on the "painful" situations in Palestine and Iraq, calling on Israel to "cease attacks on the Gaza Strip and the killing of children, women, the elderly and civilians", and noted that since assuming leadership he has settled differences with Syria.
"We conducted a signing of 51 joint agreements in one go," he said.
"Turkey is also working to achieve the same in Iraq," he said.
The Chairman of the Chamber's Board of Directors, Abdul Rahman Al-Jureisi, spoke at length of the Saudi business community's desire to strengthen economic relations with Turkey.
"Despite the nature of trade and investment relations between the Kingdom and Turkey over the last few years, the business sectors in both countries are full of hope in improving economic and investment ties," Al-Jureisi said.
"Trade exchange increased from SR5.6 billion in 2003 to 18.83 billion in 2008," Al-Jureisi said. "The volume of joint investments in the Kingdom is still not as high as we would hope, being no more than SR470 million, but we are hopeful for more to reflect the excellent relations between the countries," he added.
Al-Jureisi said that Saudi businesspeople were keen to invest in Turkey, particularly in agriculture. "The Kingdom has a huge program involving billions of riyals for agricultural investment in countries with fertile soil and plentiful water," Al-Jureisi said. – Okaz/SG