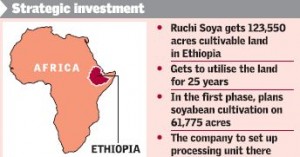 The Hindu Businessline | 16 January 2010
Our Bureau
Pact with Govt to cultivate soyabean, set up processing unit.
Mumbai, Jan. 15
Ruchi Soya Industries, one of the leading edible oil processors, on Friday announced a major farm land acquisition in Ethiopia for soybean cultivation.
The company said it has signed a memorandum of understanding with the Ethiopian Government for cultivation of soyabean and setting up a processing unit on 61775 acres in Ganmbella and Benishangul Gumaz States on a lease basis for 25 years.
It has an option to increase the area under cultivation to 123,550 acres. However, it did not reveal investment details.
Looking overseas
"Ethopia has been chosen for agriculture investment considering the availability of labour, its strategic location and the Government support to boost foreign investment and development," Ruchi Soya informed the stock exchanges on Friday.
The company's closest competitor, KS Oils, in October last invested Rs 380 crore to acquire 53,000 acres at Kalimantan in Indonesia for palm plantation.
The funding was done through the wholly-owned subsidiary, KS Natural Resources, Singapore, which received a Rs 375-crore-infusion from the parent company.
The company had earlier bought 85,000 acres in two tranches in the last two years.
Constrained by the availability of cultivable land and hiccups in contract farming, Indian agricultural companies are looking at global destinations for backward integration.
Tie ups with State Govts
Ruchi Soya gained the potential to develop palm plantation of about 89,000 hectares by entering into tie-ups with various State governments.
The country would continue to depend on imports for its edible oil requirement.
The oilseeds coverage in the rabi season as on January 7 was lower by six per cent at 84.23 lakh hectares against 90.01 lakh hectares logged in the same period last year. Ms Shraddha Umarji, Research Analyst, NCDEX, said the dry weather had led to a decline in the acreage of the winter-sown oilseeds.
This may lead to a strain on edible oils supply, forcing imports.
The vegetable oil imports in November were at 753,966 tonnes (555,342 tonnes). Edible oils constituted 712,677 tonnes while non-edible oils import was at 41,289 tonnes.
"A lowering of import duties coupled with an increase in consumption and high price elasticity had resulted in large-scale imports," she said.
Ruchi Soya stocks on the BSE were down marginally by 0.73 per cent at Rs 95 and KS Oils closed down 0.60 per cent at Rs 75.