Reuters | 14 January 2010
By Wendell Roelf
CAPE TOWN (Reuters) - Sub-Saharan focused private equity fund Agri-Vie will reach its $100 million target for investment in agricultural projects by March, and could triple this amount in a second fund, a top official said on Thursday.
Agri-Vie funds food and agricultural projects in Africa seeking to make equity investments across the agribusiness spectrum, including processing and product distribution.
Africa's agriculture sector, largely subsistence-based and underdeveloped, is set to boom as European, Asian and Middle Eastern countries invest in the world's poorest continent to boost food security in their own backyards.
"The indication is that we would reach that target of $100 million by February, March this year," Izak Strauss, executive director and chief investment officer of the Cape Town-based fund told Reuters in an interview.
The first fund was launched in May 2008.
Agri-Vie's backers include South Africa's Development Bank of Southern Africa and private entities such as the W.K. Kellog Foundation.
"There is definitely an opportunity to do a second fund substantially larger than the first fund... probably (in the region of) $200 to $300 million," he said, adding that the second fund would likely launch around 2013 or 2014.
Strauss said the firm plans to invest up to $25 million on five new projects during 2010, including a new $4 million eco-tourism project in Tanzania. He did not elaborate.
Earlier this month, Agri-Vie invested slightly more than $10 million in two ventures in the east African agribusiness sector, which it considered an "investment hotspot" because of positive economic growth forecast in the region.
Strauss said Agri-Vie invested $6.7 million in New Forests Company (NFC), a forestry and timber products group with operations in Uganda as well as Tanzania, Rwanda and Mozambique and with a British holding company.
East Africa has so far been a net importer of sawn timber and electrical poles and NFC aims to replace these imports with locally-produced goods.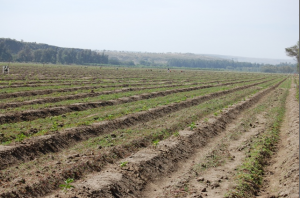 The second investment was $3.5 million in africaJUICE, a company establishing fruit production and processing operations in East Africa, and which wants to capture a piece of the lucrative European and Middle East juice market.
"Its first operation is in Ethiopia growing yellow passion fruit, mango and papaya," said Strauss.
He said the company, which was converting a 1,200 hectare state-run farm, hoped ideal growing conditions in Ethiopia coupled with its location would help displace European companies' reliance on importing the fruits from South America.
"The first exports will happen from mid-this year," Strauss said of the fruit farm being developed by Dutch and British entrepreneurs.