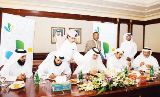 The Peninsula | 11/5/2009
By Huda NV
DOHA: Qatar's premier investor and developer in the agriculture and livestock sector, the Hassad Food, is set to serve the poor and needy in countries where its projects operate. The company signed an agreements with eight leading charitable and humanitarian organisations in Qatar, yesterday, to set the wheels rolling.
"This partnership is to create an environment for the active NGOs in Qatar to venture into our foreign investments," said Nasser Mohamed Al Hajri, Chairman and Managing Director, Hassad Food.
"Hassad Food has various projects in many countries. So this can also help charities to carry out their relief activities in countries where our projects are running."
Qatar Authority for Charitable Activities, Qatar Charity, Sheikh Eid Bin Mohammad Al Thani Charity Association, Sheikh Jassim Bin Jabor Bin Mohammed Al Thani Charitable Foundation, Sheikh Thani bin Abdullah for Humanitarian Services (RAF), Qatar Red Crescent (QRC), Reach out to Asia-Qatar Foundation and Silatech signed the agreement.
The MoU was signed by Al Hajri on behalf of Hassad Food while, Engineer Abdullah Al Naama, Vice-Chairman, Qatar Charity; Dr Mohammed Ghanem Al Ali Al Madeed, Secretary General,QRC; Ayidh Al Qahtani, General Manager, RAF; Ali Al HAjri, Projects Director, Eid Charity; and Ahmed Al Suwaidi on behalf of Qatar Authority for Charitable Activities, Sheikh Jassim Charity, ROTA and Silatec.
With the agreement, any of the organisations can work along with a Hassad Food project to help the needy in country. The charities can look into the fields were their help can be initiated and Hassad Food call them for services on site.
The charities can vent out their activities in the form of Education, Health services, developmental projects and job opportunities on Hassad Food project site. The idea primarily came from Qatar Charity. "By this we can also ascertain that Hassad Food will not be hesitant in conducting any charitable activities in association with these organisations in Qatar or abroad," Al Hajri added.