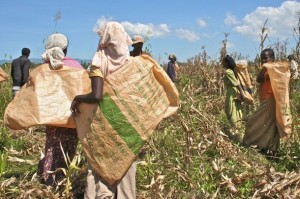 Bloomberg | 10 November 2009
By Jason McLure
Nov. 10 (Bloomberg) -- Ethiopia plans to lease 3 million hectares (7.4 million acres) of land to foreign and domestic investors for agriculture over the next three years to increase productivity and earn foreign exchange, the government said.
The state has already leased land for 15 birr (U.S. $1.19) per hectare per year in some parts of the country in an effort to attract foreign investment, said Eyesus Kebede, an agricultural-investment coordinator in the ministry. The government is also attempting to woo investors by offering incentives such as grace periods on payment.
"There is ample amount of land which is not cultivated yet," Eyesus said in an interview in his office in Addis Ababa, the capital, yesterday. "We are preparing the land and we have given the comprehensive support for the agricultural investors."
Foreign investment in agriculture in Africa has drawn criticism from aid groups, including Oxfam International, that are concerned about the use of farmland to produce food for export from countries with widespread hunger. In Ethiopia, an estimated 13.7 million people, about one-sixth of the population, are dependent on foreign food aid.
Eyesus said such concerns were outweighed by the plantations' capacity to bring foreign exchange and technology into the Horn of Africa country, as well as creating employment.
Among foreign investors that have acquired land in western Ethiopia are Karuturi Global Ltd., an Indian food processor, and Saudi-based billionaire Sheikh Mohammed al-Amoudi, Eyesus said.
Regional governments have already transferred 1.7 million hectares of land to Ethiopia's central government and surveyors are in the process of delineating additional land, he said.
Feather Dresses
Among the land currently being advertised on the ministry's Web site is 180,625 hectares along the Omo River in southern Ethiopia. South Omo Zone, as it is known, is home to pastoralists from the Hamer, Dasenech and Gnangatom ethnic groups, many of whom still dress in feathers and leather garments and are considered among the world's most threatened indigenous people, according to Survival International, a London-based group that campaigns on behalf of ethnic groups.
Eyesus said the land in South Omo was "empty" and that the government had taken environmental and social considerations into account when allocating land for investors.
"The people and the local governments are very happy," he said. "We have not seen any conflict between investors and the community."
To contact the reporter on this story: Jason McLure in Addis Ababa via Johannesburg at
[email protected]
.