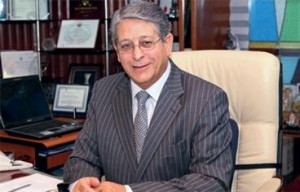 Emirates Business 24/7 | Sunday, September 27, 2009
By Vigyan Arya
The Sayegh Group of companies is constantly expanding in various parts of the world, as well as diversifying its business into distinctly different sectors, said its top executive.
In an interview with Emirates Business, the group's owner, Saleem Fayeq Sayegh, who is also Managing Director and Partner of the group's flagship in the UAE – the National Paints Factories Company – said even during the current economic crisis he is constantly flying across continents to open factories, finalise deals and initiate new businesses.
National Paints remains his personal passion, but his commitment is equally divided across several other businesses, many still in embryonic stages. "Now is the right time to sow the seeds of new businesses with costs going down, and relish the results later when they bear fruit," said Sayegh.
In the current crisis, while most companies are containing their operations, Sayegh Group is looking at expanding and diversifying its business. What is your strategy?
We have always had these expansion plans as part of our business strategy, but it's best to execute them now, as the cost to set up or acquire any business is very low and affordable. Rents are down, costs are low, salaries are reasonable and, importantly, you can get the best professionals for your new projects. Many of our businesses were planned earlier and have been in the pipeline for some time, while many others have caught our interest in recent times. Financially, you can now get a lot more for a lot less.
What are the different areas that you have expanded into?
We have expanded into a wide range of business activities. The group made an investment in Jordan Commercial Bank and Al Jazeera Sudanese Jordanian Bank in Sudan. The Jordan Commercial Bank is in the top five banks of the country with total assets of JD628 million [Dh3.25 billion] in 2008, a 14 per cent increase over the previous year. Since the Sayegh Group took over the bank, its deposits and cash margin balances have gone up by 23 per cent. The second investment is in Al Jazeera Sudanese Jordanian Bank. It is expected to be one of the fastest returns on investments as it's a very fast-growing bank and is strongly supported by the Sudanese Government. With total assets of about $57m (Dh209m), the bank is initiating a foray into the consumer sector.
Do you have any other investment plans in Sudan?
Yes. We have acquired a very large piece of agricultural land in the Nile Delta – a 15,000 sq km tract of land where we will be producing for international markets, including the Arab World. In fact, we were encouraged by the recent findings that the Nile Delta is so fertile that it can, in fact, feed the entire Arab World.
We will surely be looking at the Middle East and North Africa region as our market, but will not be restricted to just that. As and when the business demands, we will be looking at the wider international market.
Another large investment by the group is in mining rights in Sudan. We have acquired a 20-year period of mining rights for another 15,000 sq km of mining land. The Sudanese Government is a partner of our group and holds a 45 per cent stake in the project. The area is one of the richest in the region and survey results show that gold content is as high as 90g in one cubic metre of mining land. In addition, you are also like to get 40 to 50 per cent of other semi-precious metals, including copper and nickel. These mines are to be operational soon and we will be supplying gold and other metals to the market within six months or a year.
Your group is making a lot of investment in Sudan. Considering the civil unrest and the political turmoil there, do you feel it's a safe investment?
Sudan hasn't had a very peaceful recent past but the current government is committed to stability in the region and we are partnering with the government in all our projects. We are looking at the future and not the current crisis, as it won't last forever.
Aviation is another sector that you have invested in. What is the current status of that business and do you intend to launch an airline in future?
We are running a very successful aviation company that caters to a niche market of cargo and aircraft leasing. With five cargo planes we are one of the major operators in the Balkan area and we have padded our fleet with two additional passenger aircraft that are leased to international airlines for regular service. The company has been in operation for more than a year now and we hope to make some major announcements regarding our further expansion plans in this sector by the end of this year.
With all these expansions and diversification plans, how close are you, personally, to your core business of National Paints?
National Paints will always be my personal passion and remain the closest to my heart. In fact, we have major expansion plans, with new factories coming up in the Indian cities of Cochin and Ahmedabad. In fact, I will soon fly to Cochin to inaugurate our latest plant there with a capacity of 100 tonnes a day. It's a big market and we intend to expand in the region by supplying to Sri Lanka, the Maldives and even the Far East from our plants in India.
What other diversifications have you gone into and what are your plans for the future?
The group has set up a very successful television channel called Decision Makers Television, and has also acquired Watan TV in Jordan. The group has also established advertising and publishing companies to complete our hold over the media industry. In the recent past we have invested in real estate, but, of course, that has slowed down. Pharmaceuticals also got our attention with a large plant in Kyrgyzstan's capital Bishkek.
PROFILE: Saleem Fayeq Sayegh Owner, Sayegh Group
Sayegh was born in Amman, Jordan, in 1949. He established the Sayegh Group along with his two brothers and spread its activities into the Arabian Gulf.
From a focused beginning as a leading paint manufacturer in Sharjah, the business developed into many other commercial ventures and has spread to 60 countries worldwide with a diversified product and services portfolio.
Sayegh's social obligations are as strong as his business commitments. He was appointed a UN Goodwill Ambassador for his involvement in various charitable activities.