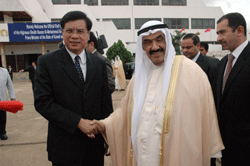 Bangkok Post | 16/08/2009
Writer: PHUSADEE ARUNMAS
Thailand may be able to co-invest with Kuwait to grow rice in Laos in a form of contract farming.
Laos made the proposal in talks between Commerce Minister Porntiva Nakasai and Nan Viyaketh, Laos' Minister of Industry and Commerce, said Ms Porntiva's chief adviser Chaiya Yimwilai.
The pair met for talks during the four-day Asean Economic Ministers Meeting in Bangkok which ends today.
Ms Porntiva liked the sound of the proposal and said the ministry would look at how to make it work.
Laos suggested that Thailand set up a company with Kuwait to cultivate paddy fields in the country. Now only 900,000 of Laos' 2 million hectares of agricultural land are farmed.
Kuwait had recently shown an interest in doing rice business in Laos, but Vientiane also wanted Thailand, which has specialised knowledge of rice planting technologies and markets, to be its partner, said Mr Chaiya.
Thailand, Laos, Vietnam, Burma and Cambodia are members of the Ayeyawady-Chao Phraya-Mekong Economic Cooperation Strategy (Acmec), which carries out measures to boost border trade.
Among those measures is a contract farming scheme in which entrepreneurs can invest in farming in neighbouring countries and import produce to their own countries without paying tariffs.
Laos also supports Cambodian Prime Minister Hun Sen's plan to set up a Rice Trader Association among the Acmec members. It would stabilise rice prices, not attempt to collude in price-setting, Mr Chaiya said.
Thai Rice Exports Association president Chookiat Ophaswongse said he disagreed with the joint venture to farm rice in Laos.
Thailand has a rice surplus of around 10 million tonnes a year, so the investment would affect the country's rice exports.
Mr Chookiat was also unsure whether the Rice Trader Association would work.
Each country has its own production methods and costs, so stabilising prices might be difficult.
Acmec members should boost cooperation in production technology instead, he said.