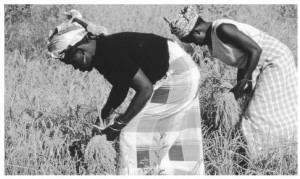 Reuters | Mon Aug 3, 2009
By Souhail Karam
RIYADH (Reuters) - A group of Saudi-based investors, including the Islamic Development Bank (IDB), will launch later this year a seven-year plan worth $1 billion in Africa to reduce dependency on rice imports and supply the Middle East region.
The so-called 7X7 project aims at developing and planting 700,000 hectares of farm land to produce within seven years 7 million tonnes of rice, said Salim Lalani, head of investments at Foras International Investment Company, one of the partners in the project.
"We are looking at three to four countries: Mali, Senegal and may be Sudan and Uganda," Lalani told Reuters.
Food security has topped the policy agenda in the arid Gulf Arab region following rampant inflation in 2008 that underscored its dependence on imports and forced countries to invest abroad to ensure supplies of staples such as rice and wheat.
The project's political backers are the Organisation of the Islamic Conference (OIC), which groups more than 50 countries, and the governments of Mali and Senegal, both of which are OIC members.
"On the financial front, there is the IDB and the Private Sector Islamic Development Corporation," Foras said in written replies to Reuters' questions.
ISLAMIC TARGETS
The project's focus on rice aims at catering to the needs of West African and Middle Eastern countries in the commodity.
"West Africa's annual deficit in rice reaches about 2 million tonnes," Foras said.
Saudi Arabia imported a little over 1 million tonnes of rice in 2008, according to U.S. Department of Agriculture. West African giant Nigeria, the continent's most populous nation and an OIC member, produces only a fifth of its 2.5 million tonnes annual rice needs.
"This (project) is among targets set by the OIC and the Islamic Chamber of Commerce and Industry to confront the food shortage crisis, increase agricultural output and improve rice productivity," it added.
A feasibility study led by a team of Thai experts will be completed this month and the project will start with a pre-execution phase covering 5,000 hectares in Mali, close to the Niger River Basin.
"We will then move to the execution phase of the project covering 50,000-100,000 hectares, which will be gradually increased over a seven-year period. Effective work will begin by the end of this year," Foras added.
Of the 50,000-100,000 hectares, 20,000 hectares will be planted with rice at the cost of $200 million, Foras said.
It did not say under what form of ownership the land will be granted to the partners.
Saudi Arabia has urged companies to invest in farm projects abroad after deciding last year to reduce wheat production by 12.5 percent per year, abandoning a 30-year-old programme to grow its own which had achieved self-sufficiency but depleted the desert kingdom's scarce water supplies.
In January, the government cited Ethiopia, Turkey, Ukraine, Egypt, Sudan, Kazakhstan, the Philippines and Vietnam as some of the countries that Saudi investors and officials might look at.
Several Saudi firms have already started investing in agricultural projects from Indonesia to Ethiopia.
The world's top oil exporter said in January it had received the first batch of rice produced abroad by local investors.