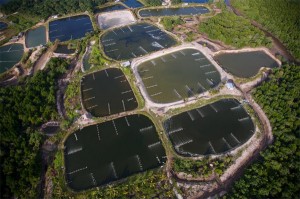 Gulf Daily News | Thursday, June 25, 2009
By MANDEEP SINGH
A BAHRAIN scouting mission left for the Far East yesterday in a bid to bolster the country's food supplies.
The business delegation left on a week-long trip to the Philippines and Thailand, where it hopes to secure fruit and vegetable plantations.
It hopes to strike deals that would see produce grown overseas and flown back to Bahrain to feed the growing population.
Those taking part in the trip hope it will also build on existing business ties between Bahrain and its Far East trading partners.
However, they are more interested in investing in the agriculture sector of both countries, as well as other food businesses - particularly the Philippines.
The delegation has not been deterred by comments in yesterday's Bangkok Post, which quoted Thai Prime Minister Abhisit Vejjajiva ruling out foreign investment in his country's rice farming and livestock businesses.
He added the Thai government welcomed investment in processing agricultural products and in businesses that upgraded food and agricultural technology, but foreigners were only permitted to invest in joint-venture farm businesses in which Thais own a minimum stake of 51 per cent.
It is also unfazed by UN food security expert Olivier de Schutter's comments, who is reportedly calling for a code of conduct to regulate the purchase of farmland across Africa, Asia and Latin America by Gulf states and private businesses
"I have had several representations from Filipino officials who have expressed a desire to partner Bahraini investors in setting up these (plantation) ventures," said Bahrain-Filipino Business Council co-chairman Jawad Al Hawaj, before catching a flight to Manila.
The delegation will stay in the Philippines until June 28 before travelling to Thailand, where it will stay until the end of the month.
The Bangkok Post also quoted Thai trade representative Kiat Sittheeamorn as saying the country was closely engaged in trade talks with Bahrain on government-to-government deals, particularly for rice.
He added they were talking about the possibility of using Bahrain as a springboard to supply rice to the GCC.
Mr Al Hawaj, who is also a board member at the Bahrain Chamber of Commerce and Industry (BCCI), told the GDN that Bahrain was keen on expanding business with both Thailand and the Philippines.
"Non-oil trade relations between Bahrain and the Philippines are not very high at the moment - even though Bahrainis have set up some rice and banana plantations in that country," he said.
"The total (annual) worth of this trade at the moment is around $40m (BD15.1m), growing at an annual rate of 10 per cent, but we want this figure to be much higher."
He added that non-oil trade with Thailand was around $350m (BD132.3m) a year, growing at a similar rate.
"With more Bahraini investments in the two countries, we see there is a lot of scope for growth," said Mr Al Hawaj.
He added many Filipino investors had also expressed an interest in setting up joint ventures in Bahrain.
"They are keen they invest in human resources development, as well as education," he said.
Meanwhile, Bahrain's construction sector is also attracting interest in the Far East with some companies apparently interested in establishing a base here, while others are said to be interested in developing Bahrain's health sector.
Mr Al Hawaj said Bahrain could also take advantage of the tourism experience of both the Philippines and Thailand.
He also confirmed there were pending proposals that involve Bahraini investors setting up a shrimp farm in the Philippines. "This is in the planning stage and discussions are progressing," he said.
Meanwhile, he revealed the Free Trade Agreement between Bahrain and the US meant Filipino and Thai companies were channelling exports to the West through Bahrain.
"They now are looking to set up a manufacturing and re-processing base in Bahrain so they could better organise their exports," he said.