Sudan and China to focus on agriculture development
Published: 15 Jun 2009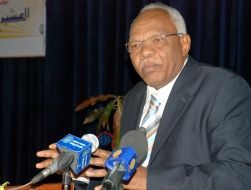 Sudan Tribune | Monday 15 June 2009
June 14, 2009 (KHARTOUM) — Economic relations between Sudan and China would focus on developing the agriculture, said the Sudanese minister of economy at the opening of the first Sudanese-Sino forum on agriculture cooperation.
"Sudan wants to focus its efforts with China in the field of agriculture and it will be the integration of roles between the two countries to achieve the common interest," said minister Awad Al-Jaz, adding that "the opportunity is mature for China to enter this area of wider doors."
Addressing more than two hundred agricultural experts and members of business communities from the two countries at the Friendship Hall on Sunday, the Sudanese minister who was the former minister of energy said China succeeded in the exploration and production of Sudan's oil, and also planning to concentrate efforts on the agricultural field.
Sudan has been described as a possible bread basket for the Middle East and has great productive potential in land close to the Blue and White Nile rivers and the River Nile proper. But the farming sector is underdeveloped and in need of capital, irrigation systems, roads, machinery and technology.
Sudan is the third partner of China in Africa. The volume of trade exchange between the two countries is 8.18 billion US. Also the investments of Chinese companies in Sudan amounted to 13.1 billion U.S. dollars while the non-financial investment jumped to ten billion U.S. dollars.
The head of the Chinese delegation Zhang Yuxiang, who is the chief economist in the Chinese Ministry of Agriculture, said Sudan had a great potential in the agricultural development since it is the largest country in size in African, rich in agricultural resources and has a large portion of land to be developed.
"China, which has experienced the process of 30 years of reform and opening to the outside world, has gradually worked out a way fit to its own agricultural conditions and rural development, and has accumulated therefore a large number of successful experience and mature technology," the Chinese official said.
She said by deepening and expanding the agricultural cooperation between the two countries, China and Sudan would boost food security and economic sustainable development, and achieve a win-win situation.
Sudan and China are expected to sign a number of joint projects in the agricultural field at the end of the forum on June 18.