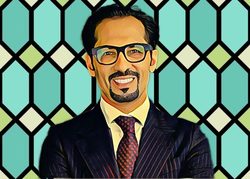 MeTL Group expressed interest to invest around $100 million in four Rwandan companies that produce edible oil, soap, wheat and maize milling, carbonated drinks, plastic bottle recycling, agriculture, and fuel storage, among other strategic sectors.
Billionaires Africa | 14 September 2023
Tanzania's richest man Mohammed Dewji secures land in Rwanda
By Mfonobong Nsehe
Tanzania's richest man Mohammed Dewji has secured land in Rwanda as part of his decision to pour millions of dollars into the country through his Dar es Salaam-based conglomerate, MeTL Group.
The move by the leading businessman, who also ranks as the youngest billionaire on the African continent, comes after he unveiled a bold strategy to inject a staggering $100 million into four prominent Rwandan companies, signalling a growing interest in Rwanda's rapidly expanding economy.
The targeted companies operate in areas such as edible oil, soap production, wheat and maize milling, carbonated drinks, plastic bottle recycling, agriculture, and fuel storage.

Dewji, who received the Industrialist of the Year Award in June, expressed his gratitude for the support extended by Rwandan institutions, stating: "As a businessman, I'm grateful for the support and facilities Rwanda's institutions have offered."
The visionary leader behind MeTL Group, a Tanzanian conglomerate with a diverse portfolio of over 150 products, including flour, beverages, carpets, edible oils, and matchsticks, has transformed his youthful entrepreneurial spirit into a multibillion-dollar empire spanning several African nations, including Tanzania, Kenya, and Mozambique.
In an earlier interview this year with CNN Connecting Africa anchor Eleni Giokos, Dewji, not only Tanzania's wealthiest but East Africa's richest man, revealed his ambition for MeTL Group's products to compete with global giants such as Unilever, Proctor & Gamble, Pepsi, and Coca-Cola.
However, his recent plans to invest $100 million in Rwandan companies is poised to accelerate economic growth and strengthen business ties between Tanzania and Rwanda, fostering a prosperous future for both nations.
The Rwandan government has expressed optimism about the positive impact of Dewji's investment, anticipating increased job opportunities, technological advancements, and the enhancement of the nation's industrial landscape.