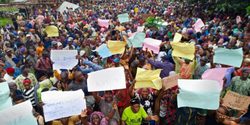 The Tribune | 27 August 2023
Ondo cocoa farmers protest alleged destruction, sales of farmland

by Hakeem Gbadamosi

Hundreds of farmers from the Ilua community of Ondo West Local Government Area of Ondo state have protested over an alleged encroachment, destruction, and sales of their cocoa plantations by the state government to foreign companies.
The protesters from over 20 villages converged on Ilua and armed with placards of various inscriptions, We say no to land grabbing, Great farmers, Great Nation, No farmers, No Nation," alleged that the state government had issued an eviction notice to all the farmers in all the 20 villages in the area to vacate their farms.
They were chanting, All we are saying, leave us alone," with other inscriptions on their placards, among which are "This is another Slavery," "We say no to the destruction of our cocoa farms," "No Farmers, No Nation', "We don't want to steal, farming is our job, don't sell the lands to China."
The protesters also alleged that government officials have been threatening to forcefully evacuate them if they failed to relocate before the end of the year.
Speaking on behalf of the protesting farmers, the traditional ruler of Ilua, Oba Olalani Ibidapo, said: "There were some people who came to our villages and started erecting signposts that the state government has sold our farmlands and villages to Chinese and Indian companies.
"They said the government has issued a notice that we should quit our farms and villages because the companies wanted to move in and take over our farms and villages.
"We have been here for over 100 years, and we are here farming, no other things. I have more than 19 villages under me here: Ilua, Laoso, Adejori, Logunofe, Keseomi, Obadore, Obakele, Ilua 2, Kangidi, Oloruntedo, Abayemisi and Magbaralewon just to mention a few.
"We heard suddenly that we should move out unexpectedly. Where are we going to go? Look at our people: no work. We have graduates among us here, but since there's no job, they ventured into farming.
"We are protesting against this policy, and we also appeal to our Governor, Arakunrin Oluwarotimi Akeredolu, to please consider our situation here. We are large communities, so the state government provided health centres, schools, and polling units for us here.
"We voted for President Bola Ahmed Tinubu and other All Progressives Congress (APC) candidates in the last general elections. We are more than 50,000 in terms of population.
"But I want the government to take note that If they insist on ejecting us, there would be a problem. Many of the victims would turn into criminals.
"Look at youths working on the farm, the government should be happy about this development. Look at the crowd."
However, the Senior Special Assistant (Agric & Agribusiness) to the governor, Pastor Akin Olotu, denied the allegations, saying the state government knew nothing about the destruction and sales of the cocoa farmers
He distanced the state government from such quit notice and sale of the people's farms to anyone or firm but said the matter would be investigated.
He said, "No sensible government will displace anybody in a free area, so want to look at that place and will invite their representatives, we will sit down together and look at the win-win situation and see how can we accommodate their interest.
"My little investigation shows that where they are is even far from where those people are going to work, so maybe their protest is anticipatory action.
"We will send the government surveyors there to confirm the precise location and look at how we can resolve the whole thing amicably."
But the Chairman of Youths of Laje community, Laoso District, Ondo West, Akinbami Philip, appealed to the state government and said, "We are begging our governor to rescind this policy and order.
"We have graduates who have farms here, we want the government to leave us so that we would continue working on our farms. This is where we feed our families.
"The government asked us to pay money, and we are faithful to it. Every year, the government did give us payment advice, sometimes N3 million, and we did pay. But now, they no longer give us payment advice. The last time we paid to the government coffers was in 2021 because they didn't give us payment advice again.
"We think the government wants to sell these lands totally. This would make us suffer. We have started seeing white men coming to the land, we are against this policy."
Another community leader, Prince Francis Adewole, called on President Bola Ahmed Tinubu to help them prevail on Governor Akeredolu to allow them to continue working on their cocoa and plantain farms.
"We are begging President Tinubu also to help us appeal to Governor Akeredolu to give us a chance to enjoy what we have laboured for. We have been here for over 100 years, with lots of cocoa plantations, plantain farms, kolanuts farms, and other crops. We are many here, and our only occupation is farming, Prince Adewole said.
A primary five pupil in Ilua, Antony Confidence, also appealed to the state government to allow their parents to remain on their farms in order not to disrupt the children's academic pursuits.
Ademola Ajibola, who studied Physics, disclosed that he decided to venture into farming when he couldn't get a job in the city.
He said: "We are highly surprised by the state government's action against us. We have been here for many years, I am a graduate of Obafemi Awolowo University, but no job.
"Yet I decided to venture into cocoa farming. We pay the government our dues until 2021, when we saw some people erecting signposts on our farms. They said they were given the order to come and destroy our cocoa and other plantations. Where do we go from here?
"We have villages all around here, no hideout for bandits or criminals. We are protesting because the government would not let us breathe. Food security is our watchword here, we sell food to the people in town. If we are being evacuated from here, I don't know what might be the result. But if this policy of leaving here is being carried out, there would be social implications, there would be disaster."
Mrs. Akinduro Faith, an elder in the community, lamented that instead of being encouraged by the state government to go into farming, the government allegedly wanted to eject them from their farmlands.
She said: "Sometimes last year, we were given notice that some people were being arrested here, so we should leave this place. They are ready to destroy all our properties.
"We are not criminals here, we are farmers, We should be encouraged instead of this. We do pay our dues. When it is the election, they come here, and we vote for them. Why are they claiming that people are not here?
"It is a pity I don't have anywhere to go; we depend on farm work here, no other work for me. Where do you want over 50,000 people to go? We are doing fine here, they should look into the situation because if not, we women would carry guns and turn to criminals."