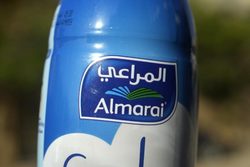 This image shows an Almarai logo in Cairo, Egypt, on Wednesday, April 26, 2023. Fondomonte Arizona, a subsidiary of Almarai Co., has for nearly a decade grown alfalfa in the American Southwest that is sent to the Gulf kingdom to feed cows there. Arizona rescinded a pair of drilling permits that would have allowed Fondomonte to pump up to 3,000 gallons of water per minute to irrigate its forage crops. (AP Photo/Amr Nabil)
The Associated Press | 28 April 2023
In Arizona, fresh scrutiny of Saudi-owned farm's water use
By Suman Naishadham
WASHINGTON — In rural Arizona's La Paz County, on the state's rugged border with California, the decision by a Saudi-owned dairy company to grow alfalfa in the American Southwest for livestock in the Gulf kingdom first raised eyebrows nearly a decade ago. Now, worsening drought has focused new attention on the company and whether Arizona should be doing more to protect its groundwater resources.
Amid a broader investigation by the state attorney general, Arizona last week rescinded a pair of permits that would have allowed Fondomonte Arizona, a subsidiary of Almarai Co., to drill more than 1,000 feet (305 meters) into the water table to pump up to 3,000 gallons (11 kiloliters) of water per minute to irrigate its forage crops.
In an interview with The Associated Press, Attorney General Kris Mayes said she thought most Arizonans see it as "outrageous" that the state is allowing foreign-owned companies "to stick a straw in our ground and use our water for free to grow alfalfa and send it home to Saudi Arabia. We just can't — in the midst of an epic drought — afford to do dumb things with water in the state of Arizona anymore."
Mayes, a Democrat, sought the revocations after she said her office had found inconsistencies in the permit applications. Mayes vowed to look into Fondomonte's operations and water use last year after the Arizona Republic reported that the Arizona State Land Department leased the company thousands of acres of farmland for below market value.
Fondomonte did not respond to multiple requests for comment from the AP. Its lawyers have said previously that the company legally leased and purchased land in the U.S. and spent millions on infrastructure improvements.
Years of drought have ratcheted up pressure on water users across the West, particularly in states like Arizona, which relies heavily on the dwindling Colorado River. The drought has also made groundwater — long used by farmers and rural residents with little restriction — even more important for users across the state.
Saudi Arabia, struggling with its own water shortages in the past decade, restricted the growth of some forage crops in the country. That Fondomonte chose Arizona as a place to grow such crops has angered some in the state, which has faced two consecutive years of federal water cuts from the Colorado River, a primary water source for the state.
Officials from both parties have criticized the use of state water by foreign-owned entities, with Gov. Katie Hobbs, also a Democrat, saying in her January state of the state address that she, too, would look into the practice. The state's groundwater, Hobbs said, "should be used to support Arizonans, not foreign business interests."
That same month, Republican state legislators introduced a bill to prohibit sales of state lands to foreign governments, state enterprises and any company based in China, Russia or Saudi Arabia.
"There's a perception that water goes to local uses," said Andrew Curley, a professor of geography and the environment at the University of Arizona. "When you recognize it's going far away, that the products and benefits of this water are exported overseas, that really provokes people's attention."
Foreign entities and individuals control roughly 3% of U.S. farmland, according to the U.S. Department of Agriculture. Canada is the largest holder — mainly of forestland. Fourteen U.S. states have restrictions on foreign individuals or entities owning farmland, but limitations vary widely and no state completely prohibits it.
Fondomonte also farms in California's Palo Verde Valley, an area that gets its water from the Colorado River. Those operations have attracted less scrutiny. And it's not the only foreign company that farms in the Southwest. The United Arab Emirates-owned Al Dahra ACX Global Inc. grows forage crops in Arizona and California, and is a major North American exporter of hay.
U.S. farmers themselves export hay and other forage crops to the Middle East — mainly to Saudi Arabia. China is the primary export market for U.S. hay.
In Arizona, renewed attention to Fondomonte's water use is raising questions about the state's lack of regulation around pumping groundwater in rural parts of the state.
Phoenix, Tucson and other Arizona cities have restrictions on how much groundwater they can pump under a 1980 state law aimed at protecting the state's aquifers. But in rural areas, little is required of water users besides registering wells with the state and using the water for activities, including farming that are deemed a "beneficial use."
"Frankly, I believe they are not doing their jobs," Mayes said about Arizona's Department of Water Resources' oversight of rural areas. The department declined to comment on the revoked drilling permits or the need for more groundwater regulation.
Mayes, along with hydrologists and environmental advocates, says more studies are needed of groundwater basins in rural areas — such as La Paz County, an agricultural county of about 16,000 people. Currently, Arizona doesn't measure how much groundwater users pump in such areas, which means there is little understanding of how much water an operation like Fondomonte — or other farms — uses.
Almarai's holdings in the Southwest are just one example of the farmland the company and its subsidiaries operate outside Saudi Arabia. It farms tens of thousands of acres in Argentina, which has also faced severe drought conditions in recent years.
Holly Irwin, a member of the La Paz County Board of Supervisors, has long opposed Fondomonte using water in the county. She said she's fielded complaints from residents for years that it's getting harder to pump water in nearby wells and has repeatedly asked the state to do something about it.
"We need to have some sort of regulation so it's not all just being pumped out of the ground," Irwin said.