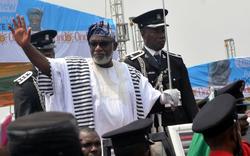 Governor Rotimi Akeredolu
The Source | 21 April 2023
Farmers in forests reserves are illegal occupants – Ondo State Government
by Ayodele Oni
Ondo State Government has reacted to some protesting farmers' claim on the ownership of Forests Reserves in the State insisting that the Reserves belong to it.
There have been protests by the farmers that have plantations in the Forest Reserves as the State moves to hand them over to some Foreign Partners for industrialization.
State Commissioner for Information, Mrs Bamidele Ademola- Olateju, in a statement in Akure on Friday, explained that activities of the farmers in the Forest Reserves are illegal.
"Forest Reserves in Ondo State, like others in Nigeria were primarily created to serve as sanctuaries for endangered species of plants and animals, and to preserve forests for the benefit of mankind.
"Forest Reserves are government owned, and the government of Ondo State declare categorically, that, farming and hunting in its forest reserves are illegal acts.
"It is called encroachment and poaching respectively, and it will not be tolerated.
"We admit that our Forest Reserves harbour squatters. Even though we have legal rights to evict those who encroach on government land without let nor hindrance, we have not done that.
"Many of these squatters have long inhabited these Forests and have developed a sense of ownership. It is no longer news that our Forests have become spaces for criminal activities and hideouts for kidnappers, terrorists, ritual killers, and armed robbers who launch attacks on travellers.
"A few years ago, to prevent our Forests from becoming ungoverned spaces, where terrorists, bandits, kidnappers and allied criminal actors situate their bases and camping grounds, we embarked registration of farmers in our forest reserves as part of our security strategy.
"While that was ongoing, the Central Bank of Nigeria created a window for states to develop commodities that is useful for import substitution, Ondo state keyed in, and identified oil-palm as a crop in which we have competitive advantage.
"Immediately, we envisioned the Red Gold project and prioritized oil-palm cultivation.
"For this purpose, one hundred thousand hectares (100,000 ha) was earmarked, of which 100ha will be treated as free and declassified.
"Two leading companies on the Nigerian Stock Exchange that are players in oil-palm value chain indicated interest as investors.
"One of them is SAO Agro-Allied Services Limited. Our drive to open part of Oluwa forest reserve is strictly a deliberate policy geared towards putting the state on solid economic footing, and less dependence on federal monthly allocation.
"The impact of the oil-palm (Red Gold) project has already been felt in terms of meaningful job creation and enhanced flow of money into the state.
"From the onset, registration of farmers in the forest is not the same as conferment of ownership. It was done mainly for identification.
"The state can evict squatters anytime, and whenever the need arises. The resort to blackmail by squatters who have granted themselves ownership and appointed Baale for themselves will not stand.
"The government has engaged them many times and discussed plans to settle those who farm on government land on 100 hectares in a modern, organized farming.
"This was announced to their representatives in the presence of the Orunja of Odigbo (traditional ruler of Odigbo). The government of Ondo State want to reiterate that no amount of blackmail and misinformation will make us rescind our decision on the use of government land.
"Ondo State cocoa yield is very poor compared to our neighbours in Ghana, and Cote D'Ivoire. We have tried educating those who farm on our land, on the need to comply with international standards.
"We have made several efforts to educate these squatters. SAO Agro has held discussions with the community and their camp heads. They have been told that, by 2025 forest cocoa that cannot be geo-referenced will no longer sell globally.
"On the issue of money paid to the government, rent is supposed to be paid annually. We challenge the over "10,000" farmers to produce evidence of payments to government since they were registered.
"We have ceded 100 ha to them and SAO Agro plans its expansion in phases and in ways that will cause them to harvest their crops."