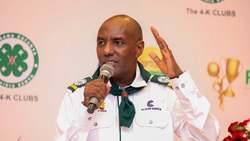 Kenya's Agriculture PS Harsama Kello who has said his ministry has mapped out land for maize production. PHOTO | DENNIS ONSONGO | NMG
The East African | 15 April 2023
Kenya plans to plant maize on 500,000 acres idle public land
Kenya's Ministry of Agriculture will finance key state corporations to put 500,000 acres of their idle land under maize production even as the government seeks to lease out more chunks of unutilised farms to the private sector.
The country's Agriculture PS Harsama Kello said they had mapped out land belonging to Kenya Agriculture Livestock Research Organisation, Kenya National Youth Service, Kenya Prisons and Agriculture Development Corporation to be put under crop cover.
Mr Kello said plans are already underway to have Agriculture Finance Corporation (AFC) give loans to these state agencies to enable them grow maize and ease the annual shortages.
"We have identified 500,000 acres that we are going to finance through AFC to enable these government agencies to put their idle land under food production," he said.
Cabinet resolution

This is the first time that the government has revealed it would use parastatals to grow more food on idle land. Former president Uhuru Kenyatta's government had passed a Cabinet resolution to lease the land to the private sector. The PS said they would still lease the land to private investors as well and private companies able to farm huge chunks of land.
Mr Kello said the money to be loaned to these entities would be used to mechanise the farms and buy farming implements to ensure that huge chunks of land produce enough maize in the next two years.
He said the process to have these corporations utilise the idle land and leasing of the same to private investors had been started.
Mr Kenyatta's government approved the policy on large-scale commercialisation of public land held for agricultural production.
The policy, which was adopted last May, seeks to provide a framework for the utilisation of idle land owned by public institutions for large-scale commercial agricultural production.
Kenya is seeking a model where public land will be leased to private investors for food and cash crop production that relies less on rain-fed agriculture in favour of irrigation.