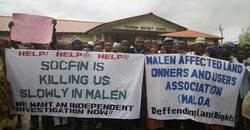 Malen Land Owners Association | 19 August 2021
Sierra Leone: MALOA is disappointed by UNDP/Fambul Tok meeting on 18th August 2021

It has come to the knowledge of MALOA that UNDP/Fambul Tok held a meeting in Sahn Malen on 18th August, 2021, as a follow up to Fambul Tok's intervention in the land crisis in Malen Chiefdom, a project being sponsored by UNDP. Fambul Tok failed to invite MALOA to the meeting as promised but reports are being circulated that MALOA representatives attended the meeting when in actual fact the so-called MALOA representatives were deliberately handpicked from the membership of Hopanda, a group that is being sponsored by SOCFIN Agriculture Company and Paramount Chief B.V.S. Kebbie as an opposition to MALOA to promote the interests of the company and the chief. Photos from the meeting show that participants from Malen Chiefdom were all supporters of the company and the Paramount Chief. MALOA is disappointed that a reputable international organization like UNDP was misled into attending a meeting that was nothing but a ploy to portray the wrong impression of Fambul Tok's intervention in Malen in favour of the company and the Paramount Chief, as usual.
The Executive Committee is hereby dissociating MALOA from the decisions or outcomes of that ill-conceived meeting and wishes to express the organization's willingness and commitment to a sincere dialogue. Meanwhile, MALOA and all bona fide members will continue to employ peaceful means to advocate for their land rights and to raise public awareness of the human rights abuses in our chiefdom.
We call on UNDP to maintain its neutrality and to continue doing the needful to resolve the moral and land crises in Malen Chiefdom.