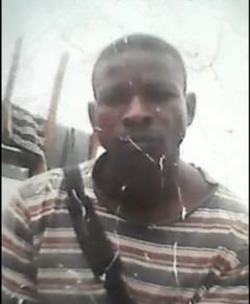 Joël Imbangola Lunea
RIAO-RDC | 12 February 2020
Urgent communiqué: Feronia security guard acquitted of murdering Congolese land defender
The court in Mbandaka, capital of the Province of Équateur, DR Congo, has acquitted the presumed killer of a land defender, in a surprise decision that was not communicated to the victim's family or its legal counsel.
The lawyer for the family of Joël Imbangola Lunea, an environmental activist and member of RIAO-RDC who was brutally killed on 21 July 2019, was told by the clerk of the Mbandaka court that Mr. Boketsu Ebuka (alias "Ebola"), head of security for the Canadian oil palm plantation company Feronia Inc at its Bepumba division, was acquitted of murder charges on 4 February 2020. The lawyer acting on behalf of Joël Imbangola Lunea's family only learned of this decision today, 11 February, when he visited the court to inquire if Mr. Ebuka had been released from prison. His enquiry followed reports from Joël Imbangola Lunea's family that Mr. Ebuka had been spotted in his home town of Bepumba.
RIAO-RDC is shocked and outraged by this sudden decision by the court. There is ample, eyewitness testimony that confirms that Mr. Ebuka brutally
murdered
Joël Imbangola Lunea on 21 July 2019, with the aid of another Feronia security guard. These testimonies also confirm that Mr. Ebuka was motivated in his attack on Joël because of his involvement with RIAO-RDC and the organisation's efforts to support communities in Boteka in their long-standing land conflict with Feronia.
Mr. Ebuka was represented in court by a team of 32 lawyers who stated during the trial that they were being paid to represent Mr. Ebuka by Feronia's DRC subsidiary, Plantations et Huileries du Congo (PHC).
The decision to acquit Mr. Ebuka shows that companies like Feronia-PHC can act with complete impunity in the DRC. It must be overturned in order to restore some semblance of rule of law, not to speak of justice, in the country.
The European and US development banks that control Feronia Inc need to act immediately to sanction their client for its ongoing repression of community leaders. The CDC Group of the UK, Feronia's largest shareholder, commissioned an
independent investigation
into Joël Imbangola Lunea's murder that it refused to make public until the trial was concluded. Now that the court has issued its ruling, we expect the CDC to make its finding fully available to the public.
For more information:
Jean-François Mombia Atuku
PCA, RIAO-RDC
+221 77 346 96 21