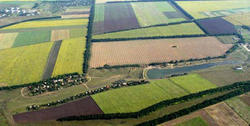 Under an MoU signed between Gujarat Agro Industries Corporation and the Republic of Uzbekistan, the Uzbek government has offered the Indian company around 20,000 ha of land for farming
DNA India | 23 January 2019
Uzbekistan offers 20,000 hectare land to farmers, firms
Farmers, agro processing biz units and others will soon come together in a conglomerate of sorts as part of an MoU signed between Gujarat Agro Industries Corporation (GAIC) and the Republic of Uzbekistan. As part of the MoU, the Uzbek government has also offered around 20,000 ha of land for farming, as well as for agro industries in the Central Asian Country.
The MoU calls for formation of various agencies under GAIC to provide training for capacity building and facilitate technology transfer between both the countries, said a government official.
"We are looking at farm to fork solutions and the Uzbek government has offered 20,000 ha of land. This means even farmers from Gujarat will be able to make use of the opportunity," said Sanjay Prasad additional chief secretary, department of Agriculture at the inaugural session on sustainable technology driven agriculture for new India at the Vibrant Gujarat Summit 2019 on Sunday.
KS Randhawa, Managing Director, GAIC said that it will provide the opportunity for formation of agro processing clusters. "Several players can come together to make use of the opportunity provided by the MoU. The Uzbek government was very keen on the project and we plan to create a conglomerate of sorts that will deal with various aspects of agro processing under the leadership of GAIC," said Randhawa. He said they are looking at farm to fork solutions. "So what we are saying is that we can look at the opportunity to not only produce something but also get into value addition and provide the final product too," said Randhawa. He said as part of the MoU the Uzbek government has not only offered land but also the technology. "This transfer of technology will also also enable our farmers and businessmen to use it in Gujarat. This is a win-win-deal,"s aid Randhawa.
It should be noted that in all 28360 MoUs were signed during the three days of the Vibrant Gujarat Summit 2019 of which 408 were in the agro food processing sector.