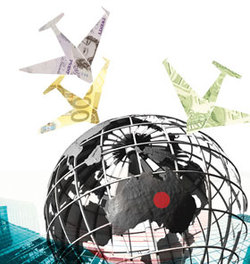 Canadian Business magazine | March 16, 2009
It may be the last place investors would go in a global downturn. And that's exactly why Africa's worth a look.
By Sharda Prashad
Strong returns from an African investment might once have seemed as unlikely as an American president with African parentage, but times are changing. Long associated with despair, poverty and corruption, Africa has recently shown that it can offer real opportunities for investors who are willing to stomach some risk for substantial reward.
If India and China are emerging economies, then Africa is at an earlier stage — an emerging emerging economy, if you will. "Africa is the last real frontier in emerging markets," says David Creighton, president and chief executive of Cordiant Capital, a fund manager based in Montreal, which has raised US$1.4 billion for private investments across emerging markets. "Unlike other emerging markets that are crowded with private equity investors, Africa doesn't have that level of competition. Canadian investors are slowly waking up that Africa is on the radar."
Other countries have been quicker to identify the potential in Africa. But it's not too late for North American investors to take advantage, says Creighton. Cordiant, whose clients include foreign and domestic pension funds, has US$200 million invested there in private equity and US$50 million in debt financing. Over the past six years, its African investments, which range from a mattress manufacturer to mobile phone companies, have been among its better-performing assets. While the firm focuses on institutional players, Creighton says retail investors can also look for companies with an African presence — Canada's SNC-Lavalin Group Inc. (TSX: SNC) among them.
Creighton isn't alone in his appetite for Africa. In 2008, funds dedicated to sub-Saharan Africa raised US$3.2 billion, a jump from US$2.3 billion the previous year, according to the Washington, D.C.–based Emerging Markets Private Equity Association (EMPEA). As of last October, there were 36 funds focused on sub-Saharan Africa, including 11 launched last year. Across the region, consumer goods and services, telecommunications, banking and domestic infrastructure are the sectors attracting the most investment. (Telecom is particularly attractive: sub-Saharan Africa has about 125 million mobile subscribers — just 18 subscribers for every 100 people, compared with 90 subscribers per 100 people in South Africa.)
Meanwhile, the perceived risk of doing business is falling. According to a recent EMPEA survey, the risk premium for African investments fell to 6.7% in 2008, compared with 8.9% in 2006 — lower than Brazil or Russia, but equal to Latin America. That doesn't mean Africa is without problems. EMPEA estimates that its poor infrastructure can indirectly tack on between 20% and 30% to the cost of doing business. Chronic power outages caused at least 50 lost production days in sub-Saharan Africa each year between 2004 and 2007 — hardly surprising, in a region where generation averages a mere 37 MW per million people, compared with 326 MW per million in other developing countries.
Despite such obstacles, Africa can still deliver lofty returns. Cru Investment Management PLC, a company based in Cardiff, U.K., forecast a 30% return for an agricultural fund that generated profit from farms in Malawi. The region offers a strong workforce, and could be a top food producer thanks to its fertile soil and abundant water and sunshine, says Duncan Parker, a Cru spokesperson. The difficulty with farming in Africa, says Parker, is that 40% of food never makes it to market, because of high transportation costs, lack of good storage facilities and lack of farm aggregation. If a company can supply food throughout the continent, he says, it will be successful. In March, Cru is expected to begin offering global investors a new fund for farming projects across sub-Sahara.
Roelof Horne, a veteran manager of African funds based in Cape Town, has delivered an annual return of 21% between June 2005 and November 2008. As part of his role as portfolio manager for Investec Asset Management Ltd., he is handling the Mackenzie Universal Africa & Middle East Class, a fund that Mackenzie Financial Corp. says is the first to allow Canadians to invest in the entire continent of Africa. Horne reminds potentially skittish investors that while it has its share of problems, Africa is a vast continent, which includes 53 countries across 15 to 20 different economic markets. Growth is expected for more than 50 African countries this year, while other western economies are expected to be flat or decline, he says. If global growth slows to 1% this year, Horne expects Africa's to reach 4%. (That's higher than February's IMF projections of 3.3%.) With half of the population under 20, Horne expects the African economy to grow and create numerous opportunities. Many foreigners might assume those will come mainly from commodity plays, but Horne points out that just eight out of 53 countries rely on resources for a large contribution to GDP.
From an investment perspective, Horne summarizes Africa's potential this way: "The infrastructure isn't good, but there is high growth, not a lot of competition and a good profit margin."