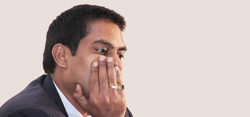 Karuturi Agro Products PLC says it is about to recommence the troubled commercial farms it was forced to abandon in Ethiopia, last year, with a new 25,000 hectare lease.
The Reporter | 21 April 2018
Karuturi to start afresh in Ethiopia
By Birhanu Fikade
Passing through turbulent years in Ethiopia, Karuturi Agro Products PLC – a subsidiary of the Indian based Karuturi Global Ltd (KGL) – said it is about to recommence the troubled commercial farms he was forced to abandon in Ethiopia, last year.
Sai Ramakrishna Karuturi aka Ram Karuturi, Chief Executive Officer of KGL, told The Reporter that the company has now dropped all court cases it claimed against the government of Ethiopia and is planning to start fresh in all four farms it used to hold, since 2004.
"We are withdrawing our case against the government and the government is signing a fresh lease for 25,000 hectares," Karuturi wrote in reply to the questions forwarded by The Reporter via text message.
Asked whether he means to forgo the previous 100,000 hectares of farm land he used to own in Gambela Regional State, Karuturi answered: "[It's] a win-win compromise. Once we are able to develop the 25,000 hectares, we will be given more. For now, let's not bring ego into this. The government is sovereign."
Assigning his daughter for the job as managing director of KGL, Karuturi also said that the company has restarted operations at Wolisso flower farm and is settling disputes in the Holeta flower farm, both located in the Oromia Regional State.
He claims he offered to pay 28 million birr to compensate farmers in Holeta where it acquired some 100 hectares of farm land from farmers.
Back in 2017, in a letter addressed to the former Prime Minister Hailemariam Dessalegn, Karuturi wrote that officials at the Holeta town administration demanded a payment of 26 million Birr in compensations, which he dismissed as overvalued.
Yeshoda Karuturi, executive director of KGL, on her part, told The Reporter that with the involvement of Indian and Ethiopian Ambassador's, court cases between the company and the government withdrawn in favor of reaching at an amicable solution. "This has produced some sort of remarkable outcomes. I was in Ethiopia since October liaising with officials. They have promised us to assign land once again. We will sign fresh agreements," she said.
The executive director added that the fresh agreement will be accorded within two weeks. She said land clearing works have already been carried out on the Wolisso farm site.
Back in March, properties of KGL in Kenya narrowly escaped foreclosure by the Kenyan local bank–CfC Stanbic–to which Karuturi owed USD 18 million. Since 2014, the bank was entitled to operate properties under receivership: a type of corporate bankruptcy wherein a receiver is appointed to run a company.
Both Kenyan media reports and a presser Karuturi sent to The Reporter indicated that a Dubai based Phoenix Group–a global agricultural and food company with portfolios worth USD two billion–has agreed to revive the indebted Karuturi in Kenya with USD 125 million both as a loan and share in some of the ventures Karuturi owns over there. Cultivating 200 hectares of flower farms in Kenya, Karuturi claims to provide 2,200 jobs in the eastern African country.