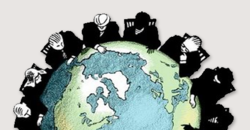 GRAIN | 27 March 2018 [
FR
] [
ES
]
We're revamping!
Farmlandgrab.org is getting a facelift. We are refreshing the design of the site and moving our social media content to GRAIN's accounts.
It was time to get rid of the site's "retro" look. But the content and daily updating will stay the same. Even the weekly newsletter will get a fresh new look.
In the process, we will be shutting down the farmlandgrab.org Facebook and Twitter accounts, but will continue posting news from the site to GRAIN.org's social media.
To keep following uninterrupted, please make sure you are subscribed to farmlandgrab.org's weekly email (https://www.ourlists.org/lists/farmlandgrab-subscribe.html), the GRAIN twitter feed (https://twitter.com/GRAIN_org) and GRAIN's Facebook page (https://www.facebook.com/GRAIN.org).
We plan to launch the new face of farmlandgrab.org on 4 April 2018.
Till then, thanks!
- The GRAIN team