CCFC| 9 August 2017
Svay Rieng villagers ask PM to solve long-running land dispute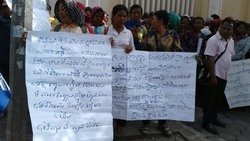 Villagers from three communities in Svay Rieng province traveled to Phnom Penh in Cambodia on August 7 to seek government intervention in a long-running land dispute.
The group of 200 villagers submitted a petition to the Council of Ministers and Ministry of Land Management calling them to intervene and resolve the problem.
The villagers represent 1,735 families from the Chek Meas, Romeas Hek and Angdong Trabek communities in Svay Chrum and Romeas Hek districts. Farmers said that private firms, land brokers and powerful officials from the provincial authority have been threatening them.
Khiev Sarun, 36 years old, a farmer from the Romeas Hek community, said that, " the disputed land had been used for agricultural purposes since 1979. We live peacefully in our communities until in 2010, the government gave our land to NK Venture. Harassment began and we were not allowed to plant."

The government granted NK Venture, a Vietnamese firm, special permission to build a sugar plantation covering 670 hectares. After seven years, NK Venture has done nothing with the land.
"Previously, the land was used for farming but now the firm owns it," Sarun said. "They forced us to pull out our crops. They tried to stop us from travelling to Phnom Penh, but we walked for 15 kilometres so we could get a taxi."
The local authorities are ignoring them and the group was forced to seek help from Prime Minister Hun.
"We want the government to help us as soon as possible, because it is the season for cultivating crops. When we tried planting on the land, the company came and cleared our crops," Morn Sina said adding that the government should call the attention of NK Venture' and stop harassing them. They also demanded to provide them with land titles.
Seng Savorn, a cabinet official in Mr Hun Sen's office at the Council of Ministers, received the petition. He promised to resolve the issue. Meanwhile, Svay Rieng deputy provincial governor Pich Saran denied allegations that the authority had threatened people with legal action.
Theng Savoeurn, coordinator of the Coalition of Cambodian Farmers Community (CCFC), urged the government to give back the land to villagers as soon as possible. He said they needed to cultivate the land to be able to survive.