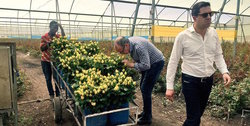 Xinhua | 2017-07-29 [
fr
]
Ethiopia allocates 3,000 hectares of land for flower investment
ADDIS ABABA, July 29 (Xinhua) -- The Ethiopian Horticulture and Agricultural Investment Authority has announced that it has allocated 3,000 hectares of land for investors who want to engage in Ethiopia's flower farming sector.
A huge international interest in Ethiopia's horticulture development sector is said to be the major factor for the Ethiopian government to allocate the reported 3,000 hectares of land dedicated to the floriculture investment, according to the Ethiopian Horticulture and Agricultural Investment Authority.
Investors from various countries, via their respective embassies and also in person, have shown interest to invest in Ethiopia's floriculture sector, Ethiopian state news agency ENA quoted Adugna Debele, Authority Deputy CEO, as saying on Friday.
According to Debele, the Ethiopian government would give priority for interested investors who have come with their own initial investment capital.
The east African country has also put in place various initiatives to lure large number of foreign investors in the horticulture development sector.
According to the Ethiopian Horticulture Producers and Exporters Association, Ethiopia, the fourth largest supplier of flower to the world market, is endowed with suitable weather condition for flower and other horticultural products.
Amongst these initiatives put in place by the Ethiopian government is a mechanism to provide 70 percent of the capital required for investment from the Development Bank of Ethiopia on loan, based on the initial 30 percent financial amount provided.
Ethiopia's flower industry sector has registered a steady growth over the past decade, making the country one of the top flower producers and exporters in the African continent.