China Economy Net| 21 March 2016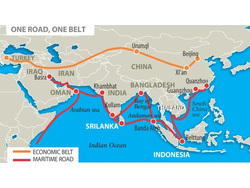 Belt and Road Initiative is a development strategy and framework, proposed by
People's Republic of China
that focuses on connectivity and cooperation among countries primarily in Eurasia, which consists of two main components, the land-based "Silk Road Economic Belt" (SREB) and oceangoing "Maritime Silk Road" (MSR). Source: Wikipedia
Broad prospects for agriculture co-op under "Belt and Road" initiative
By Qiao Jinliang
Currently, the agriculture cooperation with foreign countries is developing fast in China. Especially, the affluent agricultural resources of more than 60 countries along "One Belt and One Road" provide extremely large space for the cooperation. A few days ago, on the "Seminar on Agriculture Cooperation under One Belt and One Road Strategy", the participating experts pointed out that the agriculture cooperation embraced a significant opportunity guided by "One Belt and One Road" strategy, and China's agriculture cooperation with foreign countries would step into a rapid developing stage.
Zhai Xueling, a researcher in the Market and Trade Room of Research Center for Rural Economy, introduced that China's agricultural ODI featured an expanding scale, expediting developing speed and varying fields in recent years. According to incomplete statistics, 551 investment institutions in China have carried out agricultural investment cooperation in more than 80 countries and regions; have established 1157 enterprises, accounting for 4.5 percent of the quantity of enterprises outside China; have accumulatively invested USD 7.179 billion in foreign agriculture in total, accounting for 10.9 percent of the total ODI in China.
Zhang Wenli, an associate researcher of Market and Trade Room of Research Center for Rural Economy, who has been engaged in the agricultural cooperation between South Asia and China for a long time, told the reporter, taking the agricultural cooperation between China and Pakistan as an example, the investment environment was increasingly improved and the investment scale is increasingly expanded. The total agricultural trade of China and Pakistan had reached USD 652 million merely in 2013 with a relatively strong complementarity. Currently, the agricultural investment cooperation between China and Pakistan is gradually expanding from crop-planting-oriented to such fields as infrastructure construction, agriculture products processing and agricultural informatization.
With a wide territory and longer agricultural civilization, China has accumulated advanced technologies on plantation and cultivation under various climatic conditions, so that the countries along "One Belt and One Road" have a strong demand on the products and technologies of China's agricultural machinery and mariculture. According to the research of the Market and Trade Room of Research Center for Rural Economy, both Russia and Central Asia have vast territories with a sparse population, where the agricultural production rate is low, labor is insufficient and the operating mode is extensive. For examples, in Kazakhstan, the country with the largest cultivated area in Central Asia, cereal yield per unit is the lowest, wheat yield per unit is 1 ton/ha, merely accounting for one fifth of China, thus, Kazakhstan has a large development potential. In addition, Mongolia, Myanmar and other countries also have relatively large cooperation space with China.
Although, China's agricultural foreign cooperation develops quite rapidly, China also encounters some problems to be settled. Zhai Xueling pointed, China's agricultural ODI projects mainly concentrated in labor-intensive industries and traditional fields with low added value and technology content, which failed to strategically establish a global agricultural supply chain integrated agricultural investment and trade. Furthermore, direct investment features a small enterprise scale, weak competitiveness and highly concentrated investment areas and fields and doesn't have an obvious promotion function on China's agricultural product export.
The promotion function of "One Belt and One Road" construction on China's agricultural foreign cooperation is firstly reflected in resource complementarity. Cheng Guoqiang, the director of International Cooperation Department of Development Research Center of the State Council, believed that it was helpful to settle the problem of food security guarantee and farmers' income growth, expand the agricultural product export, increase the international food supply, as well as make full use of the two markets and two kinds of resources by implementing the agricultural foreign operation strategy, making full advantages of related national agricultural resources and supporting related countries, especially developing countries to enhance the technology level, farmland irrigation establishment and comprehensive agricultural production capacity.
Han Yijun, a professor in College of Economics & Management of China Agricultural University said, "agricultural going out does not mean merely buying land, instead, it is omnibearing and solid, and includes trade and technical exchange". In his view, 2015 was the first year of China's agricultural foreign investment era, and the foreign investment scale would embrace a large growth. He advised that the upstream and downstream agricultural investment should be included in the overall agricultural "Going out" layout to encourage enterprises' investment in such capital and technology intensive industries as processing, logistics and storage, and seed industry and other key fields and improve the investment level.
Currently, accommodation of funds provides an important support for the agricultural foreign cooperation. Both the establishment of AIIB, BRICs Development Bank, Shanghai Cooperation Organization Development Bank and other platforms and funds and the collection of capital feed unfailing funds for "One Belt and One Road" construction. For the agricultural "Going out" enterprises, such fund will be a good rain after a long drought.
Under the background of "One Belt and One Road", the agricultural foreign cooperation should make plans in advance and determine the development goals and key points. The agricultural foreign cooperation research team of Research Center for Rural Economy puts forward that it is necessary to apply such methods as government communication, facility linkage, trade smoothness, and accommodation of funds to gradually settle the problems like outdated facilities, inconvenient traffic and difficult funding. It's necessary to both energetically develop the resources seeking investment and strengthen the driving effect of ODI on China's agricultural industrial structure adjustment. Henceforth, it will improve the foreign investment level and efficiency and pay attention to the improvement of domestic agricultural competitiveness in the foreign cooperation.