[English | italiano | francés]

Boletín de prensa
24 de julio de 2015
Para su inmediata difusión
Acaparamiento de tierras en Senegal al borde de la implosión
Un nuevo informe de investigadores italianos muestra que el controvertido proyecto de Senhuile en Senegal está al borde del colapso. El proyecto, iniciado por inversionistas senegaleses e italianos hace cuatro años con el fin de producir agrocombustibles, ha provocado la fiera resistencia de las comunidades afectadas en la cual murieron seis personas. Los inversionistas alegan que han asegurado los derechos para 45 mil hectáreas de tierra, pese a que la compañía solamente ha cultivado una fracción de esto. Para empeorar las cosas, el anterior director ejecutivo de Senhuile, actualmente en desgracia, está contrademandando a la compañía por varios cargos.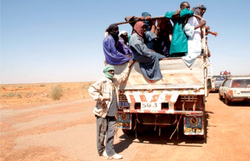 (Foto: Maura Benegiamo)
Senhuile es sinónimo del acaparamiento de tierras en Senegal. Desde su instauración el proyecto estuvo plagado de problemas. En 2011, furiosa por la concesión de 20 mil hectáreas otorgada a la compañía en la región de Fanaye, la población se salió a las calles en protesta. Dos de los pobladores fueron asesinados y el proyecto se suspendió y se mudó a una nueva locación en Ndiaël. Ahí, varios niños del área se ahogaron en unas zanjas de irrigación que el proyecto descuidó, mientras las sospechas de financiamientos ilícitos sacudían la credibilidad de la compañía. Ahora, el nuevo informe de los investigadores italianos, publicado por Re:Common muestra que los esfuerzos de relaciones publicas de la firma están resultando contraproducentes y que el proyecto está empantanado en conflictos y contradicciones más profundas.
"En los tres años transcurridos desde que el gobierno otorgó la licencia de arrendamiento, el proyecto Senhuile-Senethanol ha creado conflictos no sólo con la población local sino también entre los accionistas. Las acusaciones que vuelan entre el anterior director ejecutivo, Benjamin Dummai, y el Tampieri Financial Group, han puesto una sombra de problemas sobre la administración anterior y la nueva. La compañía local, más interesada en el poder que en la producción real de alimentos del proyecto, ya sacó beneficios de todo esto.", dice Lorenzo Bagnolli, un periodista independiente que labora con Investigative Reporting Project Italy, una organización de periodismo de investigación que ha trabajado en el informe.

Algunos de los hallazgos principales son:
- La compañía despidió a su director ejecutivo, Benjamin Dummai, quien fue subsecuentemente encarcelado por malversación de fondos, pero ahora él contrademandó a Senhuile por 14 agravios incluyendo financiamientos fraudulentos y lavado de dinero. [CORTE: En Italia, Tampieri Financial Group, accionista mayoritario, también está sujeto a investigación activa por actividades ilegales. Hay dudas de si están vinculadas ambas acusaciones.
- En las semanas recientes, los inversionistas italianos han dejado claro que sus posesiones de tierra en Senegal van más allá de las 20 mil atribuidas a ellos en la región de Ndiaël. Ellos alegan que mantienen los derechos a las 20 mil hectáreas que originalmente les cedieron al proyecto en Fanaye. También afirman que recientemente adquirieron 5 mil hectáreas en Fass Ngom. No obstante la compañía no ha podido cultivar sino mil 500 hectáreas, durante el año pasado, lo que levanta serias dudas de por qué las autoridades les asignaron tal cantidad de tierra. En todas las áreas afectadas por el proyecto, siguen impugnando fieramente el proyecto los campesinos y pastores que ya no pueden vivir de su actividad. Abundan los rumores de que el proyecto se le otorgará a alguna importante compañía estadounidense o de África occidental.
- El año anterior, Tampieri se la pasó invirtiendo fuerte en un trabajo de relaciones publicas para ganarse la buena voluntad de las comunidades aledañas a la sede del proyecto. No obstante, las visitas a dichas comunidades muestran una abrupta contradicción entre lo que dice la compañía y lo que es la experiencia de la gente en el lugar de los hechos, lo que exhibe a la compañía en lo vacío de su programa de responsabilidad social corporativa.
- Los peores agravios del proyecto son el real sufrimiento humano y la pérdida de vidas humanas. El mes pasado, un pastor de 16 años se ahogo intentando cruzar un canal de irrigación de la compañía y la familia ya prepara su demanda legal. La corporación también ha despedido a trabajadores y menosprecia las demandas emprendidas por 37 comunidades cercanas a su proyecto para que la empresa empaque y se vaya.
"No tiene sentido para nosotros que se le siga diciendo a la gente lo que en realidad ocurre en el terreno y que se presente evidencia de las irregularidades de la compañía, cuando todo lo que hace ésta es negarlas e intentar cubrir las divisiones, las contradicciones, y los conflictos que rodean al proyecto. Ya son cinco años que existe un conflicto abierto en torno a este proyecto. No puede seguir así", dijo Davide Cirillo, un investigador con WOTS (Walking on the South), un colectivo italiano que ha realizado un enorme trabajo con las comunidades senegalesas.
Este informe está siendo lanzado colectivamente por el Colectivo en defensa de Ndiaël and Re:Common, en cooperación con GRAIN, Investigative Reporting Project Italy (IRPI), SUNUGAL, y Walking on the South, grupos que han trabajado por denunciar el proyecto Senhuile por se ilegítimo y dañino.

Contactos
Luca Manes, Re:Common (IT, EN)
+ 39 335 572 1837
[email protected]
Lorenzo Bagnoli, IRPI (FR, IT, EN)
+39 333 233 3043
[email protected]
Senegal: come si accaparra la terra - en italiano o francés.
El director de Senhuile es arrestado por presunto delito financiero – Mayo 2014